In the midst of major wedding decisions like finding a dress and choosing a location, designing a full menu that all of your guests will love can seem like just another daunting task to add to the list. In order to make this process simpler, we went to the pros at Wolfgang Puck Catering to get the process broken down. Who better to go to for tips than the team behind the Oscars Governors Ball menu for the past 23 years and the creators of such wedding fare as the elevated jello shot, the create-your-own poke bar and the "vertical buffet." We spoke with Lauren Eck, who heads up Wolfgang Puck catering sales for the Dallas, Texas area and works with countless couples on creating the ideal menu for their day. Here, Eck shares the best wedding menu she's ever put together and the trends she's seeing now.
Where should you begin when starting to plan your wedding menu?
I always tell couples that they should first think about what they like to eat on a day-to-day basis. What do you cook? Where do you eat out? What is your favorite food? What is your guilty pleasure? A lot of times, we worry so much about all of the beautiful details that make up a wedding and we plan our menu with a Caesar salad and chicken entrée.
As a guest, you will always walk away remembering the food. Was it good or did you have to go to a fast food drive thru on your way home? The food should represent you as a couple and as individuals, as well as your family history. The menu can also tell a story. Do you enjoy traveling to Italy? Add a pasta course or serve late-night tray-passed pizzas with mini Limoncello shooters. Is the bride from Maine? How about miniature tray-passed lobster rolls for cocktail hour? There are a million ways to use food as a way of expressing who the couple is, where they came from and what they enjoy most.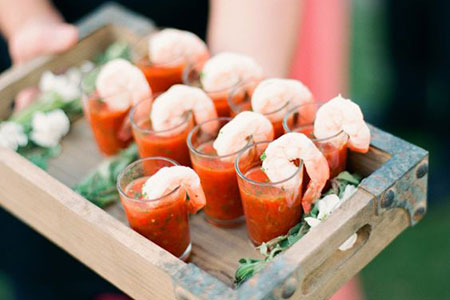 How is creating a wedding menu different from creating a menu for other events?
Anything attached to a wedding day is sentimental and emotional. This is one of the most important days in a couple's life, and we want to ensure that the menu reflects who they are. Corporate groups are different because most of the time, menus are planned to accommodate a wide variety of tastes and can be much more traditional. When planning a wedding menu, I really like to personalize each one. Our brides and grooms always have so much fun with this! Brides, just a hint…menu planning is the best way to get your groom involved! It can be fun and collaborative. Let him select a few items.
What are some wedding food trends you're seeing?
We are seeing a lot of fun trends in 2017. The most common trend that we are seeing is fresh, locally sourced and organic food. More and more people are beginning to care about local produce and eating organically. In Dallas, our culinary team works to try to purchase food locally as much as possible, and we always use the freshest ingredients available. Another trend is "food as an experience." We offer a lot of chef action stations where your guests can watch our culinary team on the event floor or a "build your own" style experience where you as the guest are customizing and creating your dish.  If you are not looking for action and want more of a seated dinner style event, we have also seen a lot of family style service this year. Couples will select several items and serve them all family style on large platters to each table and guests can select what they would like just as if they were going through a buffet but you have more of the seated dinner experience without getting up and down to go to the buffet.
If a couple wants to be really unique with their menu, what do you suggest?
I always say go for it! The wedding is about you and what better way to create a memorable experience for your guests than through food and beverage? Think outside of the box, and don't be afraid to showcase what you love.
Is there anything you should avoid on your wedding menu?
I would say nothing is off limits for weddings. It is your day! I do try to steer couples towards offering a variety of options so as to appeal to different palettes. For example, for tray-passed appetizers, don't serve all seafood. If you are selecting six tray-passed appetizers do chicken, beef, pork, two seafood and a vegetarian in order to offer variety for your guests.
I've heard you offer a "vertical buffet." Tell me about that.
The vertical buffet was custom built for us here at Wolfgang Puck Catering in Dallas. It really takes your eyes from looking down at table height to seeing the food options from across the room. Our chefs have created many fantastic dishes to showcase on the vertical buffet. My favorite use of the vertical buffet was for a s'more station for a recent bride. She loves s'mores and wanted to serve them, but not on a traditional buffet table. The chefs were able to use the vertical buffet to create what she was looking for on our outdoor loggia at Union Station in downtown Dallas.
What is the most memorable wedding menu you've worked on?
I have several weddings I've worked on that stick out in my mind. The most memorable was about a year ago. They were such a fun couple who allowed the food to be a huge part of their special day. I first met the couple to discuss their likes and dislikes. Important details always come out in these initial meetings. The bride and groom were both gluten free. They enjoy eating hamburgers, Mexican, Texas BBQ, grilled cheese and steak. They didn't like cilantro, and their favorite drink was a Moscow Mule. Based on our notes from the meeting, we developed a menu that exactly fit all of those preferences.
We served mini tacos and sliders for tray-passed items to start, steaks and lobster tail on an outdoor patio with the chef serving them right off the hot grill and onto guests' plates. We followed that with a BBQ buffet that ran the length of the room, with eight different BBQ sauces and a pickle bar. We added a grilled cheese food truck for a late night snack, and guests enjoyed Moscow Mules in copper cups as the specialty cocktail. The best part was the entire menu was made gluten free, so the bride and groom could eat everything without hesitation.
Does the wedding location ever influence the menu?
The location certainly can influence the wedding menu. If you are getting married in Texas, you may want to showcase some Texas BBQ if you have a lot of out of town guests. If you are in Maine, you could offer some type of lobster dish to showcase the local flair. I always recommend your menu take some influence from the location in order to utilize fresh, seasonal foods, like fruits and vegetables. At Wolfgang Puck Catering, we offer seasonal menus in order to provide couples with the highest quality dishes for the time of year and the location of the wedding.
Main image: RuffledBlog.com