For some actors, physically demanding roles are not only opportunities to show off their tight bods and dedication to the craft, but also to talk at length about how hard they worked to prepare. But for Sydelle Noel, who is winning praise as former blacksploitation stunt double Cherry Bang on GLOW, Netflix's 10-episode romp about a troupe of female wrestlers in the 80s, a punishing fitness routine long predated her audition, and hasn't slowed since. "I just finished a band workout," she says first thing when we catch up. "It's where you do the entire class with your arms and feet connected by bands, and you're wearing a sweat vest as well. It's intense, but that's what I like."
Despite never having wrestled, Noel's athletic training allowed her to tackle the role head-on. "In the audition, we had to do a forward roll into a high spinning kick," she says. Noel not only rolled – she took out the competition in the process. "I did the roll, and afterwards, [the casting director] was like, 'You know you're the only one who did it?' No one did the rolling kick. I was like, 'Really? What did they do, then?'"
Noel also went above and beyond with the musical portion of the audition. "When I heard we had to roll and do a rap, I was like, this is definitely not like any audition I've ever been on," she says. Nevertheless, she rapped – and made it rain. "I brought in by own beats and made everyone clap. And the rap had this line, "Money is my favorite thing," so I also had some dollar bills ready."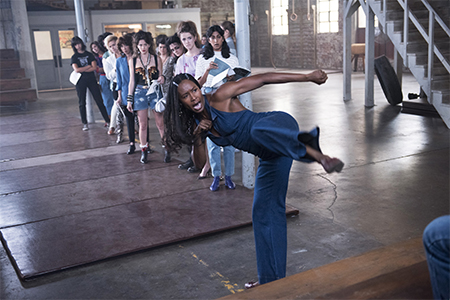 Noel may have taken that cue from an earlier costar of hers: Snoop Dogg. While starting out as a PA in Hollywood, she caught the attention of the rapper on the set of his music video for "Signs" featuring Justin Timberlake. "As [Snoop] put it, he wanted a 'dark, tall, chocolate girl.' And they didn't have that. So when I walk by, they were all like, 'Sydelle!' and I ended up being his leading lady," she recalls.
Now, Noel is catching the eye of critics. In her review, Emily Nussbaum of The New Yorker called Noel's one of her favorite performances in GLOW's 12-plus-person ensemble – and the attention is a long time coming. "I moved [to Los Angeles] 10 years ago, and this is pretty much my breakout role. Not only have I always wanted a role that was physically active, I also wanted to play a character as authentic as Cherry. So this is a dream come true."
Before heading to Hollywood, California, Noel grew up in Hollywood, Florida, just north of Miami. Herein, Noel's guide to the south Florida metro area.
CUP OF JOE:  I'm more of a smoothie person. I drink a smoothie almost every day and when I'm home I go to Delicious Raw and get the Rocket Fuel smoothie.  It's deliciousness that gives me the boost I need after my morning workout.
POWER LUNCH: Hands down… Rustic Inn Crabhouse!  I've been going to this place since I was a kid and it never gets old. The food is fresh and so damn good! Can't go wrong with whatever you get, but I do suggest the garlic crabs in a bucket. Eat outside by the water & feed the ducks & fish your garlic bread.
COCKTAIL HOUR: I'm not a drinker but Clevelander Bar is the place I go with my friends to socialize and have some fun.  It doesn't matter what you're sipping on it will be a great time! This place is like no other.
RETAIL THERAPY: Nike Store and Athleta are two places I go a lot because I workout a lot. Which is why I'm glad a Nike Store opened up at the shops at Pembroke Gardens, close to where I live.
FIELD TRIP:  Visit the Old Dillard Museum in Fort Lauderdale. It was built in 1924 and was originally called the Colored School.  I was always fascinated when visiting my mom who worked there until her retirement last year.
DATE NIGHT:  Prime 112 in South Beach is a great spot to have dinner with that special person or your friends.  The food is unforgettable and the desserts are the best.
DON'T MISS:  Haulover Beach in Miami is the place to go for fun in the sun. You can barbeque on the beach or just chill and catch some sun while taking dips in the cool ocean.
HIDDEN GEM:  Miami Broward Caribbean Carnival on October 8th! If I'm not working, I will definitely be there. It's a non-stop bacchanal party from sun up to sun down.