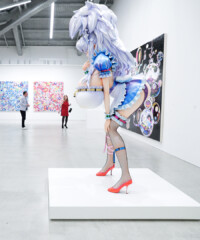 On Saturday, L.A.'s just-completed Marciano Art Foundation had its first major unveiling with a party heralding the museum's official opening on May 25th. Founded and entirely funded by Guess co-founders Paul and Maurice Marciano, the museum is housed in a Koreatown manor once occupied by the Scottish Rite Masonic Temple. 
In the museum's inaugural show, "Jim Shaw: The Wig Museum," Shaw pays homage to the space's former tenants through modified objects inspired by those the Freemasons left behind, including a display of multicolored wigs.
While the exhibition space may recall secret rituals of the past, the crowd on Saturday was decidedly in the moment. Guests on loan from Hollywood included Ryan Seacrest, Sharon Stone and Owen Wilson, while art world titans like Larry Gagosian and Takashi Murakami were there to commemorate the biggest thing to hit the L.A. art scene since the Broad.