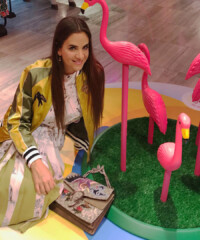 First established in 2009, The Webster—a favorite amongst the fashion crowd—now occupies successful U.S. boutiques in South Beach, Bal Harbour, Houston and Costa Mesa, California. Although most recently, founder and CEO (and native Parisian) Laure Heriard Dubreuil has taken her brand across the globe, back to her second home of Hong Kong, through an exclusive collection in collaboration with Lane Crawford.
"In a previous life—before my fashion life—I studied Mandarin and Chinese culture and civilizations for eight years," she says. "So I spent a lot of time in China and I loved it so much. But after, I moved to the States and turned the page on that." It wasn't until an invitation from WWD to speak at a summit in Beijing that Dubreuil finally returned. "It was kind of the opportunity I was waiting for to come back. For me, it was like coming back home."
During her travels, Dubreuil made a point to make additional stops to Shanghai and Hong Kong, and that's where she eventually fell for Asia's premiere luxury department store Lane Crawford. It was "love at first sight," as Dubreuil puts it, and the same applies of her first meeting with Lane Crawford president Andrew Keith. "We had so much in common," she says. "We're from two different parts of the world, but we had so much to share." 
The collection of over 20 brands includes Master & Dynamic, Coach and Rosie Assoulin and will be curated online and in pop-up stores throughout China and Hong Kong. And all of which, of course, boast that signature touch of Miami flavor (home of The Webster's first location). 
For Dubreuil, the decision to pursue and execute such a promising partnership was natural, and stemmed from a gut feeling. "It comes from Confucius: pick a job or tasks that you love and you'll never feel like you're working in your life," Dubreuil says. "That's what drives me. I love what I'm doing. You should listen to your gut—that's very important." 
Click through to spend a day in Hong Kong with Dubreuil as she celebrates The Webster X Lane Crawford collaboration.