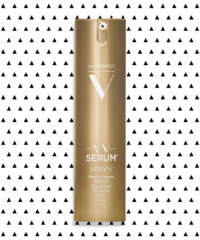 Whether you flirt with sugaring, get down with the natural, opt for a consistent wax or any of the other seemingly endless alternatives, the latest trend in beauty shines a spotlight on the mystery of feminine care for a woman's 'V.' We dedicate so much time to perfecting our facial skincare regimens (not to mention the effort of nailing a face mask selfie), and now, it's time to foster a luxury skincare routine for your vagina.
Former L'Oreal marketing executive Avonda Urben founded The Perfect V, a beauty line formulated by women for women to pamper, soothe and beautify the delicate skin around the 'V.' "I'm giving them products that will hopefully make them feel good about themselves and feel pampered. It's not for them to look good for a man. I designed this for a woman for themselves. We look after everything except our most female part," Urben says of the collection.
Channeling the typically clean and simple Scandinavian design aesthetic and color palette, the luxury line includes all the must-have products with clear and concise job descriptions. With two moisturizers, an exfoliator, a gentle cleanser, a serum, beauty sheets and a refreshing mist available, you won't be overwhelmed by the product line but for the more adventurous, there's also a luminizer.
The overdue beauty offering is made with Scandinavian-sourced natural ingredients and can be found in high-end department stores and spas around the world. Click through the gallery above to shop these uber-pampering products.