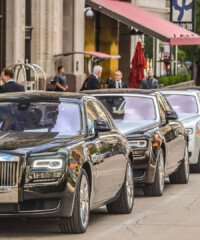 Five years after Rolls-Royce introduced the Ghost as the ultimate executive auto, the English carmaker has muscled it up. Ghost II sports a higher front end and design tweaks that give it a wider, more imposing appearance (though it's still the same size).

"Always the way Rolls-Royce does things is very subtle," notes global communications director Richard Carter. "The customers do not want radical changes to cars."


Debuting in November, Ghost II upgrades Rolls' signature silky ride with re-engineered front and rear struts and new hydraulic rear-axle bearings. One aspect of the handcrafted car remains constant: You can customize it up to the level of a fingerprint.


Says Carter, "Our default answer is 'Yes.'"