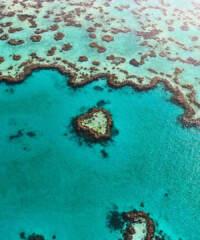 Orchestrating a trip to the Great Barrier Reef—a region that's roughly the size of 70 million football fields and encompasses 900 islands—can seem like a daunting task. But one way to make the process less complicated is by zeroing in on a luxury "destination resort" that handles everything for you. While the Great Barrier Reef has a number of them, Hamilton Island's Qualia (Latin for "a collection of deeper sensory experiences") is regularly hailed as the best, with 60 private bungalows scattered throughout the northern shore of the island. It's also just over a two-hour flight from Sydney—making it perfect for a weekend jaunt if you're already planning a trip to New South Wales.
The resort is a sort of one-stop shop for the five-star Great Barrier Reef experience: they'll arrange helicopter tours, romantic candle-lit dinners on the beach, mud-crabbing excursions with a marine biologist and private yacht charters at sunset. Even in the winter, temperatures rarely dip below 70 degrees, so there's really no "bad" time to go.
That said, Qualia hosts a number of specialty weekends throughout the year that are a particular draw for luxury travelers. The most popular among them is Audi Hamilton Island Race Week, Australia's biggest offshore regatta, which takes place every August and features 200 yachts, plus swanky social events. Or there's "Pas de Deux in Paradise," where the famed Australian Ballet temporarily relocates to the island for a weekend of oceanfront performances. A newer concept, "Weekends of Wonderment" is Qualia's most unique cultural draw. As part of the event series, guests are invited to participate in master classes taught by world-renowned artisans during the day, followed by beachfront dinner parties at night. The program is limited to just 21 guests, many of whom travel from around the globe to attend.
Regardless of when you choose to go—or what part of the Reef you decide to explore—it's guaranteed to be a bucket list-worthy experience. Click through the gallery for a digital diary of our recent trip Down Under.