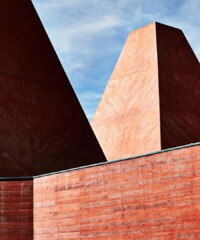 Postcards from Portugal inevitably feature Lisbon's old-world cobblestoned streets or the boat-dotted shores of Porto. But while these images are the ones most people associate with Europe's westernmost country, its stunning modern architecture is threatening to steal the scene.
"From Frank Gehry to Rafael Moneo, the world's important architects have paid tribute by being inspired by its freedom in form and space," Pedro Gadanho, the Portuguese-born curator of contemporary architecture at New York City's Museum of Modern Art, says. "This impact is broader than you think."
Any discussion of modern Portuguese architecture, which was jumpstarted after the 1974–75 revolution that ended almost 50 years of authoritarian rule, has to begin with Álvaro Siza, the 1992 winner of the Pritzker Prize, the most prestigious award in the field. His buildings are characterized by clean angles and curves, the use of inexpensive materials like concrete and local products like tile, and a harmony with the complex natural and manmade landscapes around them. His work imparts a sense of the essential and of the eternal.
Siza's impact can be seen on all the structures pictured here. His significance has grown through his countless projects across Portugal—he's drafted everything from swimming pools and public housing developments to banks and university buildings—and from his role as a professor to generations of students at the University of Porto School of Architecture.
"Obviously, there's a filtering and an influence of modernism. All of these buildings show different influences, from Le Corbusier to Alvar Aalto, but they are blended with the local vernacular," Gadanho explains.
Perhaps Siza's best-known protégé is Eduardo Souto de Moura (who was awarded the Pritzker Prize in 2011). Like Siza, Souto de Moura presents a refracted and streamlined interpretation of his country's history and unique geography through his designs. For Cascais' Casa das Histórias Paula Rego museum, Souto de Moura used red concrete to mimic the terra-cotta prevalent in the traditional local buildings, while the two pyramid-like stacks echo the towers of the nearby Sintra National Palace, a UNESCO World Heritage site. Fascinated by the interplay between the artificial and the natural, Souto de Moura also selected the red to stand in bold juxtaposition with the greenery of the museum's setting in a forest in a southern coastal town.
Despite the dynamism and variety of these structures, many of which were completed only in the last few years, Portuguese construction has now ground to a halt due to the country's intense economic troubles. (In February, its unemployment rate hit 17.5 percent.) "There is no architecture here at this moment," Siza says.
Souto de Moura concurs. "I have nothing to do in Portugal. Everything is at a standstill. All public works are suspended: the government, municipalities, hotels. Building in the private sector is also suspended. It's not just here, but in Spain and Italy, too."
Still, this stasis could have beneficial effects. For one, you'll probably start seeing more Portuguese architecture spread beyond its borders and 10.6 million inhabitants and enrich the outside world. Souto de Moura says, "What some architects like myself are doing is looking outside of Europe." (He's considering potential commissions in Latin America and Africa.)
And in the same way that a political-regime change ended up catalyzing the work photographed for this story, the euro-zone catastrophe could foment a new wave of ingenuity in architecture.
MoMA's Gadanho thinks the moment could be ripe for such a shift.
"I do think this style has become somewhat fashionable. It's become a formal language and a trap in itself," he says. "Now that we have this crisis stopping people and leaving them without work, I think we might go back to a more conceptual moment to try and understand our roots and be innovative once again."
With additional reporting by Natalia de Ory