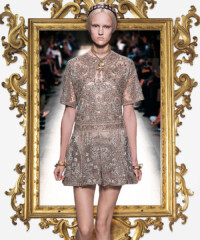 Marrakesh is known to be one of the most beautiful cities in the world, but starting this week, some of the most striking views in town will be indoors.
Through March 3, La Mamounia—the 91-year-old hotel that's still one of Morocco's most sought-after hot spots—will be displaying a series of paintings made by one the hotel's most notable guests: Winston Churchill.
The former Prime Minister of the U.K. was a famous fan of the country who once told President Roosevelt, "You cannot come all this way to North Africa without seeing Marrakech." La Mamounia was a particular favorite haunt.
"Churchill was one of our biggest fans," La Mamounia's Lamia Elghorfi explains. "He used to come visit several times to paint the gardens. It makes sense to exhibit Churchill's art here, because all of the paintings were made in Marrakesh."
Churchill's fondness for the Moroccan city is apparent in his work, though no one's arguing he should have given up life as a politician. "Churchill had another job," Elghorfi says with a laugh, "but he was still a good painter."
Click through the gallery above to see a few of Churchill's paintings.
MORE:
Morocco: An Insider's Guide
A Closer Look at Marrakesh
David Hockney's Tour de Force