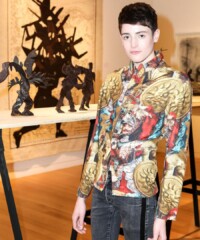 Fashion and art have a long history of collaboration, and so following tradition, Sotheby's opened its newest art installation on Tuesday night with a glamorous cocktail party co-hosted by Dolce & Gabbana.
The exhibit, Passion + Transmission: International Contemporary Art From the CAP Collection, on display at the auction house's 10th-floor gallery, includes notable works by some of New York's renowned street artists during the 1980s (think Jean-Michel Basquiat, Keith Haring and Christopher Wool, all up for purchase). To complement the featured era, DJs Andrew Andrew spun a mix of '80s classics and contemporary pop. "When you combine art with fashion, you have to mix the old with the new," one of the Andrews told DuJour. The evening's host Fabiola Beracasa – who fawned over a particular painting by Judy Millar for it's black-and-white, minimalistic charm – explained, "The nicest thing about this event is the exposure." She continued, "People want to see the art and experience it. It's a kind of personal experience for everyone."
The exhibition will be open to the public March 6, and the auction begins March 7 at 10 a.m. Take a look at the DuJour gallery for a preview of the exhibit, and to see some of the well-dressed, fashion-meets-art crowd who attended the opening, like Harry Brant, Stella Schnabel, Will Cotton and more.