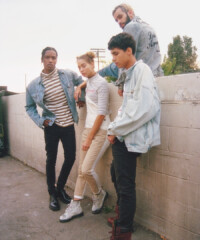 A$AP Rocky was a '90s kid who happened to grow up to become a fashion icon and rapper with two number-one albums. As the first collaborator to design a capsule collection with GUESS founder Paul Marciano for the brand's GUESS Originals initiative, Rocky channeled that classic style of his childhood. Striped turtlenecks, vintage-washed denim and the iconic GUESS logo stylized with Rocky's signature dollar signs appear in the line for both men and women.
The collection won't be available everywhere until February, but this weekend fans in NYC can catch a sneak peek at a downtown installation that transports you 20 years into the past. Inside, the wood-paneled walls of a living room house vintage arcade games, couches and televisions with Nintendo and are lined with pieces from the collection and original artwork created by Rocky's creative company AWGE. 
"Growing up he wore and loved our jeans with the triangle logo on the back pocket and this line is tapping into his incredible artistic vision to create a modern heritage-driven line," said Marciano in a release.  
A$AP Rocky said of the line, "It's a very personal collection: limited and very focused. I think this is dope because hip hop hasn't seen these color ways and patterns since the early '90s."
Click through the gallery to see pictures of the collection and installation.