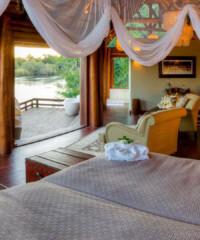 In a shiny green Land Rover we drove across the flattest land imaginable as we searched for hyenas, yellow mongooses, meerkats, aardwolves and wildebeests. At the wheel was Rich Ball, the funny British zoologist who for the past few days had been teaching us the finer points of tracking animals through Africa's Kalahari Desert: how to spot clues, how to listen and pay attention, how to determine the recent presence of a hyena or kudu from a single blade of grass.
Full disclosure: I came to Botswana a lazy safari type. The idea of tracking animals wasn't all that appealing to me. We were in Africa, after all; shouldn't they just be there? My friend and I joked that the only footprint I could spot was that of a Tod's driving shoe and then we let Rich know we weren't interested in birds or anything that resembled deer. I expected a steady stream of lions snacking on antelope. I wanted a show—and from the comfort and safety of a jeep.
We'd arrived at Jack's Camp via a disturbingly small charter plane. Intimate and exclusive, with only 10 impeccably appointed tents, Jack's, part of the Uncharted Africa Safari Company, was founded in 1993 by Ralph Bousfield, whose father, Jack, was an adventurer and hunter throughout the lesser-traveled country of Botswana. And by lesser traveled, I don't mean just by tourists, though that's true, too. Much of the country is undeveloped, desolate national reserve. In the dry season, huge swaths are completely flat, with a sporadic cluster of palm trees. When you're here, you feel like you are on the moon.
The African safari has taken on a life of its own; trips to the Kenyan and South African bush have become nearly as common as the family trip to Disney World. In one sense, that's a good thing: Tourism can help support preservation, and experiencing Africa is so life-altering that the more people who can do it, the better. This part of sub-Saharan Africa, on the other hand—Botswana, Zambia, Namibia—is a less obvious choice and, naturally, so are the adventures to be had, especially if you call on a well-experienced travel company to manage all logistics and itineraries (we used the inimitable Piper & Heath and can safely say we could not have done it without them).
At Jack's Camp, you won't see hundreds of giraffe and lions, though you will see plenty of wildlife, especially from November to April, when the Makgadikgadi salt pans on which the camp sits fill up, attracting flamingos and other water birds and thousands of zebra. You will also learn about the land's traditions and history from local bushmen, spend time with shamans and access parts of the world too marginal for most.
And without sacrificing comfort. Bousfield's business partner, Catherine Raphaely, is a decorator whose family is in the magazine business in South Africa. The opulent tents are decked out in Forties-style decor, a mix of colonial antiques and African artifacts, and meals like ostrich picatta with rosemary and potato galette are served at communal tented dinners. After my friend casually mentioned he was trying to watch his gluten intake, the chef prepared him special gluten-free breads and snacks. Camp guide Super Sande, who worked with the original Jack before the place was even a formal camp, told me many high-end vacation planners will call and say, "We have a V-V-V-I-P coming. Please give them extra-special attention." And he'll reply, "We won't give them any more attention than we are giving other guests. Everyone gets the same special treatment." It is this unequivocally careful treatment that Bousfield says makes these guests—who have included Barry Diller, the Clarins family, Anderson Cooper, Frances McDormand, Joel Coen and Google and Facebook executives as well as Peter Beard, who has used Jack's as backdrop for the annual Pirelli calendar—feel like they are experiencing something truly authentic and special.
That and the camp's penchant for surprises: A mystery drive through the Kalahari, for instance, might lead to a cocktail bar set up in the center of the salt pans. But perhaps the biggest thrill was my own change of heart: By the end of our stay, my friend and I would nearly leap out of the jeep, fighting over the binoculars to get a glance of a white-backed vulture that we'd tracked down ourselves.
After leaving Jack's, we traveled to the Republic of Zambia, located in the south central region of the African continent but less traveled than its neighbors Zimbabwe, Tanzania and Namibia. On a piece of land surrounded by hippos and crocodiles in the middle of the Zambezi River, the Royal Chundu Luxury Zambezi Island Lodge is, like Jack's, dedicated to supporting the local villages and preserving local culture, not to mention its native forests of teak and strangler fig trees. During the building of the hotel, only one shrub was cut down—and 4,000 trees were transplanted. The oversize rooms feature chandeliers crafted by area tribes. The food, too, is locally sourced: meals like berry smoked quail and Zambezi bream, accompanied by a vast list of South African wines. A stay here is equal parts relaxing and breathtaking: A typical day might include a drive to see leopards and hyenas hunt impalas, followed by an evening of bird-watching from your private deck, with a bottle of South African sauvignon blanc. Other than a requisite day trip 37 miles downstream to Victoria Falls—the largest falls in the world and one of Africa's most impressive landmarks—there's little reason to leave the resort. Until, that is, you have to.
Our last stop was aboard the Zambezi Queen, a luxury safari boat that travels the Chobe River bordering Namibia and Botswana and is a small, but worthwhile, headache to access (in the three days I was with the Zambezi Queen, I acquired more than seven passport stamps). Developed by South African plastics tycoon Tony Stern, the Queen was originally a casino boat. Later it carried backpackers up and down the Zambezi River. At some point, it made its way to the Chobe, and when the water levels receded, it got stuck. The boat rested, and rusted, there for 17 years until Stern revamped it in super-luxury eco fashion as a water safari, complete with solar panels, custom-built furniture, environmentally efficient plumbing and filtration, and jet propulsion to reduce damage to the Chobe riverbeds. From the outside the boat resembles a ferry, but inside it's warm and comfortable, with 14 cozy rooms, each with private terraces overlooking the banks of the Chobe River—and its herds of elephants, hippos, zebra and giraffe.
There are several activities to do from the Queen, including a jeep safari along the banks of the Chobe, fishing excursions and small-boat animal-watching trips through the park's narrower channels. Still, the best part here—as it often was at Jack's and the Royal Chundu—might occur at the end of the long day, as you stand on your terrace, watching the sun set and listening to the sounds of the water and animals, and remember, quite distinctly, how very far away you are from home.