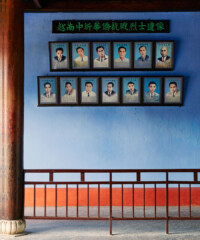 Fran Lebowitz once said, "You're only as good as your last haircut." If that's the case, my life's bright, shining moment came courtesy of a man named Vinh on the front porch of his house on Han Thuyen Street in Hue, Vietnam, and it cost just $2.50. I've had plenty of bad haircuts in cities where language barriers weren't an issue and my practitioner had more than scissors and a straight razor at his disposal. Still, when Vinh dug into my nearly shoulder-length hair without so much as wetting it, I was full of excitement instead of fear. Why? Because this experience felt authentic.
My job has sent me to many of the world's most far-flung hot spots, and I've been presented with plenty of local customs and rituals, indigenous delicacies, and site-specific spa treatments that too often feel like they were ginned up for wide-eyed honeymooners. Even exotic destinations like Thailand, Tahiti and Bali begin to lose their luster. Phrases like "time-honored tradition" start to sound meaningless. But throughout my few days in central Vietnam, whether I was at a historic landmark or contemporary crafts fair or roadside pho stand, not a moment felt particularly forced or hackneyed.
I was happy to find out that Vietnam doesn't subscribe to the "why on Earth would you leave the grounds of the resort?" flavor of vacationing. And eschewing the more obvious excursions to Hanoi in the north and Saigon in the south in favor of the central cities of Da Nang, Hoi An and Hue not only diminishes your chances of running into an ex-boss on the beach or getting stuck behind a school group in an ancient grotto, it also means you're getting the best of both regions—without all of the congestion. "Travelers pass through Hanoi and Saigon, but vacationers come to central Vietnam," says Phan Trong Minh, the general manager of La Résidence Hôtel and Spa in Hue. "We have the dynamism of Saigon in Da Nang, the profound heritage of Hanoi in Hue and Hoi An, plus all the incredible leisure opportunities."
Ah yes, the leisure. While it's true I passed serious time in pagodas, mingled with merchants and hiked along the Ho Chi Minh trail, I also clocked many hours spa-hopping in lagoon-side treatment rooms and sunbathing along untouched beaches. Once home to "China Beach," the well-known camp for American GIs during the Vietnam War, the road from Da Nang to Hue is no stranger to R&R. Also, in the past year, luxury brands Aman and Banyan Tree have opened their first Vietnamese properties to great success, attracting a sophisticated guest who wants a singular experience.
"The people we're getting now aren't really here for a taste of Vietnam; they're here to indulge in the central coast," says Anthony Gill, general manager of the Nam Hai resort in Hoi An, the ne plus ultra of luxury properties, which opened in 2006 and won a Travel + Leisure Design Award for Best Resort and a Condé Nast Traveller Best Overseas Spa Hotel distinction. "They're here to log hours on the beach and the golf course, and then when they're primed, they head out for a day's adventure among Hue's renowned palaces and tombs or out to see what the ancient Cham people worked up in stone at My Son, travel up into the Highlands or explore the world-renowned cave system at Phong Nha-Ke Bang National Park."
What's happening in central Vietnam isn't comparable to anything else. As Gill puts it: "If what you're after is access to the ocean, then comparisons to Phuket are apt. But we're more than a beach, the way Bali is more than a beach. There's tremendous cultural depth here that resonates as deeply as 1,500 years. It's this combination of culturally profound and fantastically fun—I think we're on to something new here on the central coast, something the rest of the world is just waking up to now."
A journey typically begins in Da Nang, thanks to daily direct flights from Seoul and flights four times a week from Singapore and Hong Kong. Singapore Airlines and Cathay Pacific offer fantastic service from the U.S. through Changi airport, where you can grab a short flight on SilkAir, the regional wing of Singapore Airlines. Besides being the area's commercial capital, Da Nang is also home to the Marble Mountains, a cluster of five hills that have provided the raw material for many of Vietnam's celebrated stone carvings.
While you may not need a life-size Jesus or a five-foot-tall Buddha statue, a trip to the 500-year-old stonecutters' village is worth a visit for sheer spectacle, as is the 156-step climb atop one of the peaks, which takes you into Huyen Khong, a jaw-dropping grotto that has served as both a place of worship and a hospital for the Vietcong during the American War. Just 18 miles down the beach from Da Nang lies the ancient city of Hoi An, a merchant capi- tal whose charm is as palpable as the 16th-century-style carvings adorning hundreds of two- and three-story, Chinese-influenced structures that now do triple duty as residences, museums and commercial spaces. The city is also home turf for Saigon-born, Texas-trained celebrity chef Duc Tran, whose cuisine at MangoRooms will force you to reconsider the phrase Asian fusion.
But for me, Hue was the understated showstopper. The political, cultural and religious center of the country from 1802 to 1945, it's home to the Nguyen dynasty's Forbidden City. Now you can spend all day getting lost among the square citadel's striking gates, temples and palaces—but then you'd never make it to Emperor Tu Duc's tomb, set inside a pine forest dotted with pagodas, pavilions and ponds just five miles outside the city. It was there I caught sight of monks performing their daily rituals (before working in a quick game of soccer).
Hiring a local guide here—or anywhere in this part of the country—is a worthwhile expenditure, and the one regret I have is not arranging a meal at what's called a family restaurant. For about $40 per person, a private chef will not only prepare a feast for your group, he'll also explain how and why he's prepared it and, more likely than not, give you pointers on where to spend the rest of your evening.
"People from the center of Vietnam are relatively new to international tourism," says La Résidence's Phan Trong Minh. "It's all fresh to us, so we lack the jadedness that naturally comes from long exposure to international peoples. There is an earnestness to the people who work at my hotel. We feel this incredible responsibility to tell this city's story to people who visit, and we know we only have a short time to make a deep impression."
And speaking of deep impressions, did I mention I've got a guy who gives a mean haircut and face massage for just $2.50? There were no lotus petals strewn about his porch and he didn't offer me locally sourced lemongrass tea, but he did call me 007 when I left. And judging by the line of local guys who had gathered behind me to get the same treatment, I'd say I got the authenticity I was looking for.
Click through the gallery above for more photos.
MORE:
5-Star Resorts, Spas and Experiences n Remote Fiji
New Hotels in China You'll Never Want to Leave
South Africa's World-Class Wine and Vineyard Getaways