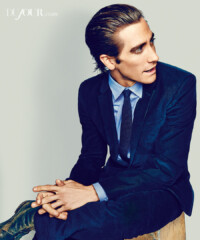 There's a catch-22 that comes with being a movie star. On one hand you've got one of the more recognizable faces in the world; on the other your job is to convince audiences that you're playing a character entirely different from yourself. If this were an easy task, there'd be nobody left to make lattes in Los Angeles.
Still, there's an impossible-to-define alchemy that turns fine acting into a monumental performance. This year, the 13 actors in this portfolio exhibited just that. From the hilarious to the heartrending and the historical, there was no dearth of work to prove that the most memorable roles are much more than top-notch imitation. In fact, it's something actors are just as aware of as audiences.
"I was always cognizant of the fact that I was portraying a real human being who suffered a tremendous loss," Octavia Spencer says of her role as Wanda Johnson in Fruitvale Station. "I can tell you what resonated with me: the simplicity and heartbreaking humanity of the story."
For Naomie Harris, playing Winnie Mandela in Mandela: Long Walk to Freedom was a similarly meaningful experience. "To be able to play the exuberance of youth, the falling in love, the naiveté, the self-awareness and then becoming this hardened warrior figure," she says, "was a gift you just don't normally get as an actor."
And while a juicy role can be seen as a gift, there's no doubt that it takes a capable performer—in addition, of course, to an equally devoted cast and crew—to turn it into the sort of experience that becomes indelible for audiences. No matter how easy it might look, it's not something that happens by magic.
"I've been working toward this moment for a really long time," Fruitvale Station star Michael B. Jordan says. "I've been doing television shows since I was 11 years old, and to finally work on this level, to have the opportunity to be the lead role, I was very nervous to see how people would respond. But it's definitely changed the conversation. The bar has risen, and now it's about what's next."
MORE:
Candid at Cannes—Premieres, Parties, Yachts and All
Tyler Shields on His Most Provocative Celebrity Photos
The Man Who Photographs A-Listers Before They Hit Stardom