The flavor of a brownie, the pick-up thin crunch of a cookie: These Brownie Sandwich Thins are your heart-shaped-box-of-chocolates alternative for the upcoming holiday, perfect for co-workers at the office, your loved ones or, honestly, just yourself. Whether enjoyed either alone as a brownie or as sandwiches filled with a vanilla-bean-caramel or raspberry-white-chocolate filling, I like to add red walnuts (which are grown in California from late spring until mid winter and are becoming more readily available) for their health benefits, plus a pop of natural cherry-red color.
Make the dough a day early, roll, cut and bake. Eat the filled cookies within a day, or refrigerate. The recipe, below. azestforlife.com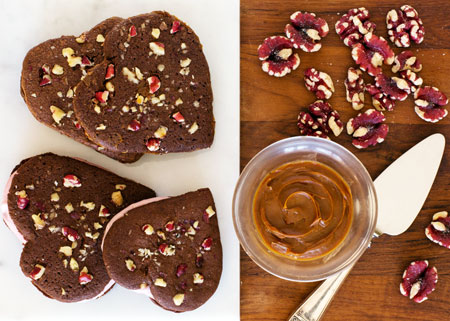 Brownie Sandwich Thins
Yield: 24 (or 12 sandwiches)
Ingredients:
1 stick unsalted butter, softened, European-style, high butterfat
3/4 cup confectioner's sugar
1 oz. unsweetened baking chocolate
1/3 cup chopped bittersweet chocolate, or bittersweet chips
1 cup coconut palm sugar
1 teaspoon espresso powder
2 large eggs, room temperature
2 teaspoons vanilla
1/2 teaspoon Himalayan sea salt
1/4 cup cocoa, such as Valrhona (Dutch processed)
1 1/4 cups flour
1/2 cup red walnuts, chopped
Directions:
Make dough a day ahead and freeze in two sheets.
Melt the 2 chocolates in microwave in a medium sized bowl. Stir and add 1 c. coconut palm sugar and espresso powder, set aside.
Cream butter and confectioner's sugar well in a stand mixer. Add the cooled chocolates, mix. Add eggs, on at a time, then vanilla and salt. Add the cocoa, flour and 1/4 cup of the walnuts. Mix together gently. Refrigerate until cold.
Separate dough in half, roll each—between two sheets of waxed paper—1/4″ thin. Freeze until very cold. Overnight is best.
Preheat the oven to 375 degrees. Grease a cookie sheet with butter. Place on counter top.
Cut heart shapes—about 24 cookies, 3″ heart shape. Top each cookie with a little remaining chopped red walnuts and press in. Bake just 5 minutes until crisp around edges, soft in center.
After cookies cool a few minutes, remove to a wire rack. Make filling & sandwich the cookies; use about 2 t. of filling in each. Cookies keep well in an airtight container. Once filled, enjoy them within a day, or refrigerate.
Easy Caramel Filling:
3/4 cup Nestle La Lachera (Dulce de Leche.) Caramel in a can. Mix with 2 t. vanilla bean paste and a grinding of Himalayan sea salt in a small bowl. Set aside at room temperature. Fills about 12 cookie sandwiches.
Raspberry-White Chocolate Filling:
Heat 4 T. heavy cream in a medium sized, 2 cup bowl in a microwave until very warm. Add 2 ounces of chopped white chocolate. Stir to melt. Refrigerate 30 minutes until cold. Whisk in 2 T. raspberry puree* and 5 T. confectioner's sugar. Cover, refrigerate until very cold and firm (at least 2 hours.) Fills about 12 cookie sandwiches.
*Raspberry Puree: Measure 1/4 cup raspberries (fresh or frozen) and place in a small bowl. Sprinkle with 1T. sugar. Let sit to soften. Stir, remove and discard the seeds by pressing the raspberries through a fine sieve into a small bowl. Use the puree for the filling, will have a little extra.
NEXT: The recipe for Lobster Savannah