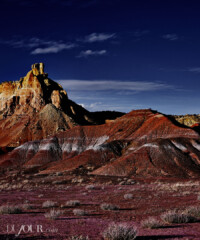 Santa Fe seems to exist, at least in the warmer months, in a perpetual Magic Hour, that time of day when everything appears softer and redder. Calmer, maybe a little hopeful. Anywhere else and you get this twice a day, if you're lucky. But here, it's always on, as if the town itself were lit from within.
The capital of New Mexico—and incidentally, the oldest capital city in the U.S., having been founded by the Spanish in 1610—has long been home to a vibrant arts community, both for those who create art and those who buy it, and so it remains. Santa Fe has more artists per capita than anywhere else, and is considered the third largest art market in the country. They—the artists, the buyers—come for the same reason they always came: that view. Georgia O'Keeffe, perhaps the most famous among the artists to whom Santa Fe can lay some claim, owned multiple houses in the area, and could often be seen perched atop one of them, angling for a better, or different, look at the cottonwood trees and rock formations that would appear again and again in her work. Cerro Pedernal, Spanish for "flint hill," was a particular favorite, showing up in some 20-something O'Keeffe pieces. She believed that if she painted it enough, it would be hers. After her death, her ashes were scattered at its peak. Other artists with ties to Santa Fe have included photographer Alfred Stieglitz, sculptor John Connell and novelist Cormac McCarthy.
But they also come for the healing such views tend to afford. In turn, Santa Fe has helped cultivate its reputation as a place for renewal by giving birth to dozens of New Age institutes, Zen centers, Tibetan shrines and yoga centers. It helps that the place is sunny an average of  320 days a year. "Touch the country," D.H. Lawrence wrote of New Mexico, "and you will never be the same again."
Because of this intense influence of nature, and the inclination to want to spend your time in Santa Fe outside, art here isn't contained to the more than 100 galleries along Canyon Road or to places like the Georgia O'Keeffe Museum or SITE Santa Fe, the nonprofit space that forms the epicenter of the city's flourishing contemporary-arts scene. Indeed, art is everywhere here, in the wind-sculpture gardens dotting so many front lawns and in the hills behind gleaming, modern houses. A few minutes outside of town live Mickey and Jeanne Klein, Austin, Texas notables and serious art enthusiasts who call Sante Fe their second home. There is no adobe here. Instead, the walls are made of glass, basalt and concrete and are built to accommodate specific works of contemporary art, including pieces by Ellsworth Kelly, Kiki Smith, Richard Serra and Richard Tuttle, a post-minimalist who also spends part of the year in Santa Fe. A "skyspace" created by installation artist James Turrell and installed in the center of the house showcases light and space while letting in the intense New Mexico sun. The Paula Hayes–designed landscape, meanwhile, was meant to blur the line between art and nature—and this is where the heaviest dose of "Santa Fe" comes in. A number of works of art, including pieces by Olafur Eliasson and Andy Goldsworthy, are tucked away in the tall grass that spans the couple's 47 acres, through which they hike twice daily. "The house was made for the land and for the art, and in some places for the land and art at the same time," says Andrew Gellatly, the Kleins' registrar. "It's an open-air museum."
The Kleins' is not your typical Santa Fe house, but the idea of "typical" is fading as contemporary-art lovers form a scene that's a little more modern, bolstered by the work going on at Santa Fe Art Institute and at SITE Santa Fe and by a flourishing culinary scene in which fajitas and margaritas are giving way to Asian gastro-fare and mezcal cocktails. It is a scene that has helped Santa Fe, in recent years, attract an undoubtedly more fashion-forward contingent. Fred Segal has a house here. Tom Ford has two. While architecturally, much of Santa Fe remains fairly consistent, still dominated by the sort of low-rise, pueblo-style adobe brick buildings most people think of when they think of the American Southwest, surprises emerge everywhere. In the center of town, the Inn and Spa at Loretto hews to the traditional adobe model but with a twist in the form of an adjacent Gothic Revival–style chapel, while in recent years modern architects have begun to push the boundaries of tradition even in the heart of downtown. That said, there is not and may never be an element of flash or ostentation. There is luxury, but it's a quieter luxury, from the Japanese-style sleeping rooms at the Ten Thousand Waves to the private casitas at the Four Seasons Resort Rancho Encantado, nestled in the shadow of the Sangre de Cristo foothills. "The art community in particular is very strong, but also very laid back," says Jamie Way, gallery director at Shiprock Santa Fe, which deals in traditional and contemporary Native American art, rugs and jewelry. "But that sums up Santa Fe in general. It's very much not about 'show.' "
Of course, the real reason to come to Santa Fe, and the reason to come back, is an entirely personal endeavor that has nothing to do with art, architecture or even nature—and everything to do with connection. Santa Fe, the locals like to say, is a state of being. And, as the artists who have found inspiration here have known for centuries, it's never the same place twice.