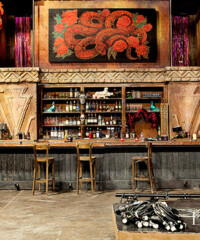 When Robert Mueller Municipal Airport, a 1930s pile about five miles from downtown Austin, shut down in 1999, it was slated to be demolished. But almost two decades later, the decommissioned building—which escaped destruction to become home to filmmaker Robert Rodriguez's Troublemaker Studios—might be more significant than ever. 
Sitting on just over 20 acres of land, Troublemaker is a bit like Rodriguez's personal playground. It's where the now 47-year-old director filmed Sin City, the 2005 noir thriller that took in over $150 million worldwide, as well his uncharacteristically family-friendly Spy Kids trilogy. The property now serves as headquarters for El Rey, the two-year-old, Rodriguez-helmed cable network currently available in an estimated 40 million American homes. 
The place isn't lacking in charm. All around the Troublemaker campus, horror memorabilia is jauntily mixed with Western decor. The walls are festooned with the B-movie-style posters for Rodriguez's productions, a parking lot is chockablock with the sort of vintage cars that appear in his films and, on a soundstage not far from his office, a Mexican-brothel set from the 1996 film From Dusk Till Dawn has been faithfully reconstructed, neon lights and all. But while it isn't appointed quite like any other major film studio, Rodriguez says the singular feeling of his kingdom is precisely what makes it so appealing. 
"The office looks just like my house, because I don't ever want to be in an office," he says, sitting in a room dominated by a wall-size painting from muralist George Yepes. "I edit out of the house, I write out of my house and come up with the scores there. When I would go to a normal office, it felt like having to go to work. Here the line is blurred between work and play."
Some things, of course, are both. That's the case when Rodriguez picks up one of the guitars laying around the studio and extemporaneously strums along with a scene as he films, or when he commandeers the staff break room to repurpose it as a villain's lair, or when the hallways are overrun with actresses in bikinis and extras costumed as part of a biker gang. 
That mix seems to be just what Rodriguez requires. In fact, producing four original series for El Rey's first year alone would have been impossible for a filmmaker without his own studio, not to mention his own timetable. "When you have an idea, sometimes it comes to you in the middle of the night," Rodriguez explains. "It doesn't follow the structure of the typical studio schedule. If a comic book I've been reading might make a good film, I want to give it a try right then."
He almost didn't have that option. After the airport closed to make way for the Texas capital's newer Austin–Bergstrom International Airport, it took a personal appeal to then governor George W. Bush for Rodriguez to land his lease on the space, a deal he struck due in part to his local roots. "It became possible because I'm from here," the San Antonio native says. "They were going to mow it down because it was an eyesore but I was like, no, I think we can bring some movies here."
In doing so, Rodriguez helped to make Austin—which hosts the annual South by Southwest Film Festival—an impressive outpost for independent filmmaking that has spawned movies like local director Richard Linklater's Oscar-nominated Boyhood. "Linklater and I got started at the same time and built the film community here because we didn't want to go anywhere else," Rodriguez says. "We kept training crews and bringing people here so we wouldn't have to move."
Having a full studio at his disposal—including a massive props room with an entire section devoted to severed body parts—has been artistically satisfying, but it's also been good for business. While the costs of running a cable network can mount quickly, the director has offset those expenditures by taking on branded-content projects using some of the sets and talent from the series he produces. General Motors was an early adopter of El Rey's branded-content campaigns, and Rodriguez says he's proud of what he recently captured on camera for a six-minute spot for Happy Socks. Talking about the short, "Sock 'Em Dead," a vampire-themed mini-thriller featuring actors Madison Davenport and Wilmer Valderrama—stars of the From Dusk Till Dawn TV series—Rodriguez boasts that the infrastructure and size of Troublemaker allowed him to squeeze extra content out of what would normally be idle time between takes.
"I've always thought that if I was shooting a sci-fi film, when one crew goes home we should use that set for a kids' film, since it'd look totally different to different audiences," he says. "We can utilize production to amortize a little bit, and the Happy Socks piece was the first time I've gotten to do it."
While El Rey is an English-language channel, it targets Latino audiences, allowing Rodriguez to put his programming in front of that fast-growing demographic. In the end, the work that went into building Troublemaker has allowed Rodriguez's creativity to reach an audience that is coming into a position of prominence in America. Outside the boss' office, a statue of the tough-guy Mexican-American actor Danny Trejo, a Rodriguez favorite, underlines his commitment to those viewers. 
"El Rey seemed like a great endeavor because it would fall in line with what I've always done in my movies, which is mainstream entertainment with a Hispanic perspective in front of and behind the camera," Rodriguez says. "It's cool when people who are Hispanic say to themselves, 'Wait, Danny Trejo is the star of a movie? What the hell is going on there?'"