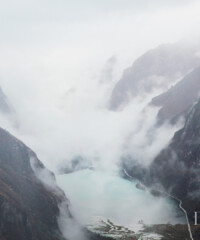 In 1859, a painting by Frederic Edwin Church depicting the mountains and jungles of South America's Andes region toured the United States. An unprecedented 12,000 visitors in New York City alone paid 25 cents each to see the huge painting, where it was reported that, during viewings, women "felt faint" and men and women alike "succumb[ed] to the dizzying combination of terror and vertigo that they recognize[d] as the sublime."
No less enraptured are travelers today when witnessing, in person, the unique power of the Andes, the world's longest mountain range, and nowhere is this search for the sublime more popular than in Peru. Machu Picchu, the ancient Incan citadel and wonder of the world, now sees over 1 million visitors a year. Nearby Cusco and the surrounding Sacred Valley offer five-star hotel options, while a new first-class train bypasses the traditional four-day trek along the Incan Trail, rendering the once cut-off archeological site accessible to nearly all. The old adage "build it and they will come" has indeed proved accurate.
But for the traveler seeking a true Andean experience off the tourist trail, there is another treasure to be found. The Cordillera Blanca, "the white range," is a cluster of mountains 500 miles northwest of the beaten paths of Peru's tourism ground zero. Long a mountaineering mecca, the region attracts a cross-section of world-class climbers and backpackers, but has also started to grab the attention of those eager to immerse themselves in extreme beauty yet not quite ready to strap on climbing gear (or give up their basic creature comforts).
In terms of sheer breathtaking scenery, the destination certainly won't let these pilgrims of natural wonder down. A tightly packed wall of earth and ice positioned between the arid Pacific coast to the west and the wet Amazon basin to the east, the CB contains hundreds of glaciers and 33 peaks that reach 19,685 feet above sea level in a relatively narrow area: 13 miles wide by about 124 miles long. By contrast, North America only has one peak above that height, Denali in Alaska. Europe has none. The CB's main attraction, Huascarán National Park, is the world's highest designated tropical forest and a UNESCO world heritage site since 1985, which means that nearly every inch of land here over 13,000 feet is protected. This has preserved a pristine habitat for the flora and fauna that thrive, unapologetically, at such altitude—a sealed-off paradise that we mere mortals can trespass only with a park permit and our own two feet. 
The good news—and the bad—is that the Cordillera Blanca is inconvenient at best to access. Huaraz, the region's capital, is an eight-hour bus ride from Lima along steep, windy roads; there's also one daily flight that's not recommended between rainy December and April, when flights are frequently fogged out. And of course, there is the option of hiring a private driver, which is the option we chose. Still, once you've made it to Huaraz, Huascarán National Park looms just out of reach. Accommodations in town tend to be one- or two-star hostels catering to acclimating trekkers before they head into the park for multiday camping trips. Day treks require hiring taxis, still at least a full hour's drive up from the city center. In other words, if Cordillera Blanca is the question, Huaraz is not the answer.
What is: Llanganuco Mountain Lodge, a boutique eco-lodge, entirely off the grid, situated right at the edge of the park on top of the Callejón de Huaylas Valley. Like a ski-in, ski-out condo, its location provides direct access to the enjoyment of the mountains, at roughly the same altitude as the 11,000-foot top of Aspen Mountain. Standing on the property looking down and out, you see a grand terraced valley, still farmed with oxen and by hand. Directly across the valley are the Cordillera Negra. "Black" due to its distinctive lack of snow, the range blocks the winds from the Pacific desert coast. Rounding out the view are two mountain giants jutting up from either side. Snowcapped, with clouds whipping off their peaks, Mounts Huandoy and Huascarán emerge like great protectors of the realm, of which you are now a part. 
In the nine years since it opened to guests, with no publicity and not even a sign on the road, the lodge has found a sweet spot in accommodating adventurous travelers—guests who, while they may love the outdoors, would not necessarily turn down a hot shower, a soft bed and a cozy fire at night. In addition to offering a variety of pre-arranged day treks, the lodge also happens to be a perfect place for digital detox or to hit reset on your sleep and diet. Activities range from bird-watching and photography to ultra trail running, a favorite pastime of the owner, Charlie Good, a dashing British expat.  
On arrival, visitors are greeted by Good, his two Rhodesian ridgebacks and the two resident alpacas, Nacho and Dolly. (Watch out for Nacho, who can be a bit possessive.) Good has a climber's physique and wears a fedora, Wayfarer sunglasses and an easy smile. He has occupied the property for 10 years and is proudly, painstakingly transforming it into something truly next level, with plans to install a glassed-in yoga deck, sauna and hot tub, not to mention meet this year's more basic goals of increasing his solar-electricity generation and giving the kitchen a professional upgrade.
For now, guests gather on the upper part of the campus in a small dining area. If the sun is shining, which it nearly always is during the May–September dry season, breakfast is served alfresco on a table laid with traditional Peruvian textiles. Fresh fruit and strong, transformative Andean coffee are followed by heaps of soft scrambled eggs or rib-sticking porridge. After breakfast, guides administer advice and encouragement for your chosen hike that day, which can be guided or self-led. 
Now the real adventure begins. Every trek starts with several hours of "up"—through the U-shaped valleys along rivers, past wild orchids and flaky smooth polylepis trees and through pre-Incan Chavín ruins, a reminder of the people who have thrived in these lands through the ages. We climbed on well-formed Incan highways that neatly traced the mountain faces, and huffed and puffed the thin air. It wasn't hard to marvel at the many living things that had adapted to this height and climate and at the scenery that changed at every turn. We paused at spotting the excitingly elusive Andean hummingbird, much larger and darker than its North American cousin. Waterfalls dropped from sheared-off cliffs and impossibly turquoise lakes shimmered when touched by the sun. Each switchback required a new photograph.
During one hike, we followed a pack of donkeys to the tip of the valley beneath Huandoy. When we reached the top, a vast sea of dusty gray ice met us. The glacier above crackled and popped every few minutes and dropped more of itself into the frozen field below. At the start of the day, we'd been warned not to wander too close to this crater for fear of being "rained" on by ice from the peak above. Obediently, we kept our distance as two Peruvian men stationed far into the stretch of ice chopped away at the blocks. (The ice is harvested for snow cones in the villages down-valley.) We pulled out our sandwiches and sat on a rock next to the donkeys, watching the men work before starting our descent.
Dinner at the Llanganuco Mountain Lodge is served at 6:30 p.m. sharp, and all guests are invited to dine together. After a day climbing through varying sunshine and rain, hot and cold, we welcomed chicken quinoa curry made with local vegetables, followed by a sticky-sweet British pudding, all washed down with plenty of hot anise tea. On cloudless nights, the Milky Way guided us back to our rooms, where fires were lit and a hot water bottle had been snuggled under the sheets. We were always ready for an early bedtime.
I slept with my curtains open, hoping to wake at first light so as not to miss the sun rising over Mount Huascarán. Each morning, the light pushed between the peaks and filled the valley below in endless shadow and illumination. Once I had my coffee in hand, I couldn't sit still or look down at a book for fear of missing one moment. I must admit that I, too, succumbed to the dizzying sublime laid out before me, and would gladly have paid more than 25 cents for the pleasure.