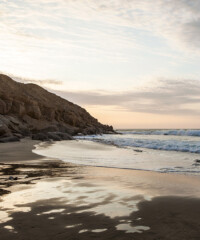 From Huanchaco to Máncora to Punta Sal, the sleepy fishing villages of the North Coast of Peru have evolved into surfing mini-meccas due to their super long wave breaks and laidback atmosphere. Before we left for our trip to Los Órganos—a hamlet nine miles south of the beachy mainstay Máncora—a NYC-based surfer friend admonished me for preparing to publicize the region. Terrified that his favorite best-kept secret might become the next Tulum, Mexico, he respectfully declined to reveal any tips on the area.
Outside of Máncora, we saw little evidence of tourism as we sat at a local cevicheria and watched kids playing beach volleyball. Harbored fishing boats bobbed in the cobalt blue Pacific. The coast is a true desert, and the clash of the tan cliffside against the cerulean water is not your typical beach postcard. In fact, the scenery of the North Coast region has a haunted quality. The barren, arid coast conjures a beauty that is rugged and raw. Yet beyond the surf moves the Humboldt Current bringing bountiful marine life including humpback whales, and making this region part of the largest fishery system in the world.  
After a long and lazy day of surfing and beaching, we sat back to enjoy unpretentious, extremely fresh ceviche prepared in the traditional Peruvian style with lemon and cilantro. Don't worry surfers, your secret is safe with us.