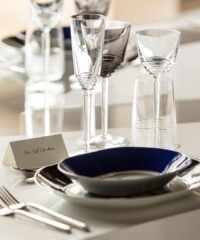 The All-Star race at Charlotte Motor Speedway, held every May, is NASCAR's homecoming weekend, a brief respite from the tightly-packed schedule that has the series crisscrossing the country for 38 weeks a year, and a rare chance for the Charlotte-based crews to catch their breath and sleep in their own beds for a few nights before heading back out on the road for the grueling summer swing. This year, the weekend was also a perfect opportunity for Jeff and Ingrid Gordon to host a dinner at their home to celebrate Hermès's new race-inspired porcelain collection, Rallye 24.
The union of NASCAR and Hermès may seem to make strange bedfellows. What does a bunch of good ol' boys driving around in circles have to do with the French maker of luxury goods? But looking deeper into both worlds reveals a commonality that struck Stephanie Winston Wolkoff, President & CEO of SWW Creative and Executive Producer of Mercedes Benz Fashion week since 2009. It was Wolkoff's idea to celebrate Rallye 24 with a dinner hosted by the Gordons, her longtime friends.
Rallye 24 is the latest expression of Hermes's most recent theme, "Chic Le Sport" (the sporting life). Inspired by the racing liveries of the cars of 24 Hours Le Mans, the race held every June in Le Mans, France —which happens to be the hometown of Yves Taralon, Artistic Director of Hermès Maison—the Hermès Rallye 24 collection features plates and cups in range of vibrant primary colors; in this context, the brand's iconic chain link graphic resembles NASCAR's oval tracks. Customers are encouraged to mix and match pieces to create their own set.
Jeff Gordon celebrates after winning the inaugural Brickyard 400 at Indianapolis Motor Speedway in 1994. Courtesy of Hendrik Motorsports
As the Gordons' dinner guests sat down at a custom-built table featuring a racetrack recessed into its surface complete with toy races cars zooming around, the mix-and-match place settings resembled a field of racecars on the starting grid, identical in form but varying in color. Just like the Rallye 24 collection, the evening's hosts, NASCAR's de facto homecoming king and queen, are a marriage of speed and beauty. Gordon, 4-time Sprint Cup Series Champion, 3-time Daytona 500 winner and Hall of Fame shoo-in, and his wife, Ingrid, a former supermodel with appearances in Vogue, Elle and Glamour, straddle the worlds of motorsports and fashion, keeping residences in both Charlotte and New York City. Key figures from the world of racing, such as 5-time Sprint Cup Champion Jimmie Johnson and his wife Chandra, and President of NASCAR Brian France and his wife, Amy, were in attendance, in addition to members of the Hermès North America team and their retail partners.
For Hermès, holding an event in Charlotte was a savvy move designed to connect to a southern luxury market that, like NASCAR, is not nearly as narrow or homogenous as outsiders would assume. When Jeff started out at NASCAR's top level, much of the staunch, typically Southern, fan base didn't know what to make of him. Who did this mustached kid, from California (by way of Indiana), think he was taking on the likes of Dale Earnhardt Sr.? Now, over twenty years later, with the help of drivers like Jeff and Jimmie Johnson, also from California, the sport has grown out of its Southern roots to expand across the U.S., and, even in recent years, launched series in Canada, Mexico and Europe.
As NASCAR expands into international markets, luxury goods makers such as Hermès are heading in the opposite direction, finding inroads into regions once assumed to be too provincial to warrant their attention. It's not just about New York, Paris and Milan anymore. "Charlotte was the best place to introduce the Rallye 24 collection as it is a center of American car racing," says Robert Chavez, CEO of Hermès North America. "Charlotte is an understated luxury market, and that understatement plays well for Hermès, as our clients also tend to be understated. It's a natural affinity."
Over dessert, Chavez leaned in to pose the question most who aren't familiar with racing can't help but ask of its drivers: "What's the fastest you've ever gone in a race?" Gordon, the once young punk of NASCAR, graciously obliged. He laughed and answered, "somewhere around 220 mph." There was a pause as some guests at the table visibly tried to imagine how fast that actually is. Each side of the table has much to learn about each other, but as far as first dates go, things went very well. And while it's unlikely that you'll see Hermès fielding a NASCAR team any time soon, stranger things have happened.
Click through the gallery to see the collection and photos from the event.