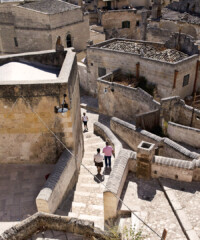 On a country famed for sensuality and abundance, Matera's strange beauty can come as a stark surprise. The old town, known as the Sassi (Italian for "stones"), is a limestone labyrinth of buildings and ancient rock churches, built amid Paleolithic caves that pockmark the side of a ravine. Bleached and gleaming under the afternoon sun, the town takes on the lamp-lit mystery of a desert fortress by night. Due to its peculiar geography, the Sassi must be navigated in three dimensions and almost entirely on foot—its winding streets are frequently punctuated by staircases and, like those in Venice, are inaccessible by vehicle. But where the Northern capital is bright colors and baroque details, Matera's whitewashed aesthetic is so ancient that both The Passion of the Christ and last year's Ben Hur remake used its spare streets as a stand-in for biblical Jerusalem. 
While this visual landscape may seem at odds with the notion of creature comforts, pockets of luxury are flourishing behind the Sassi's stone facades. Once so devastated by starvation and disease that they became the subject of a national scandal, the two Sassi districts have seen an incredible renaissance thanks to a 1993 UNESCO designation, and the work of enterprising residents who have transformed old cave dwellings into comfortable bohemian homes and charming boutique hotels. 
It follows that the destination has seen an upswing in tourism, though this influx is still largely made up of vacationing Italians who head south to the surrounding Basilicata region and neighboring Puglia. But with Matera's recent designation as a 2019 European Capital of Culture, the stage is set for its profile to extend globally—and for good reason. The city is determinedly forward-looking, even as its 9,000-year lifespan makes it one of the oldest in the world.
There may be no better evidence of this marriage between tradition and innovation than Matera's modern "cave hotels," so called because they're built into the same spaces once inhabited by our troglodyte ancestors. The most spectacular might be Le Grotte della Civita, whose 18 rooms and suites occupy a network of caves that overlook Murgia National Park, a spectacular recreation area that encompasses many of the region's ancient sites. Minimalistic wood and white furnishings complement the spare, rustic atmosphere of the cave interiors, which retain their original shape and texture through a process of careful refurbishment. Guests who desire indulgence beyond simply sleeping in a luxury cave suite can also book in-room massages, or arrange for dinner at the hotel's small restaurant, located in a candlelit 13th-century rock church.
After a pasta-heavy night during my own stay in the Sassi, I woke determined to sweat off the carbs with a hike in Murgia park. A popular trail descends straight from the town down the side of the ravine, across the Gravina River, and up to a series of caves that overlook Matera from the opposite cliffside. This turned out to be much more strenuous than I had anticipated, especially since I was also sweating off a fair amount of the deliciously mellow red wine that had accompanied my decadent meal. So mellow was the wine and its consumption that I forgot to write down the name, but it's Italy–it's hard to go wrong with any bottle your server recommends. Even with the slight hangover, the rural scenery was spectacular and the views of Matera, other-worldly—as was the opportunity to wander freely into the homes previously occupied by Stone Age housewives. 
Tired and a little sore, I recovered from my workout with a massage in the underground spa at Palazzo Gattini Luxury Hotel. Situated across from Matera's booming baroque Duomo, the Gattini is perched on the very edge of modern Matera, just before the drop down into Sasso Barisano. Though less visually spectacular, the upper city's level topography accommodates the kind of commercial development and busy street life that's impossible in the sinuous old town. With its suitably grand architecture, panoramic views, and all the requisite amenities, Palazzo Gattini is by far Matera's most opulent hotel—and unlike many properties in the Sassi, it can be accessed by car. 
 In need of a refuel after recuperating, I took a short walk to the white-tiled Via Domenico Ridola, a sunlit pedestrian thoroughfare that runs just above the Sassi. Lounging at one of many outdoor cafes, I could've easily spent an afternoon watching the steady stream of tourists and locals who stroll this bustling street in search of a snack or an afternoon glass of wine. The walkway ends at a panoramic overlook (the photo op is worth stopping for), before leading straight into Sasso Caveoso, the oldest and most otherworldly part of Matera. 
Here, modernized cave homes, quaint cafes, and tiny craft stores eventually give way to a time-defying landscape of crumbling streets, abandoned caves, and centuries-old rupestrian churches. Though private guided tours are advised I preferred to explore alone, and the sole official I saw didn't seem inclined to stop me. Making my way through the vast, deserted caverns of Convicinio di Sant'Antonio, a group of four churches that were carved out of the rock in the 12th century, I felt I was someplace not quite of this world. The only traces of humanity were the saints staring down from the grey stone walls, their faded, peeling faces all that remained of a fresco stripped away by centuries of erosion. 
A day of traversing Matera's wonders worked up an appetite for more of the rustic, agricultural cuisine the Basilicata region is known for. The most storied local eatery might be Trattoria Lucana, famous not so much for the food as for the fact that Mel Gibson ate there regularly while filming Passion of the Christ. Baccanti, a romantically lit space built into a series of caves in Sasso Caveoso, is also a standout. Its regional fare is elevated by fresh ingredients, modern presentations, an extensive wine list, and of course the one-of-a-kind ambience afforded by dining in an ancient cave. Reservations are, apparently, a must; without one I wound up at another local favorite, Le Botteghe, a white-tablecloth trattoria where I stuffed myself with a delicious local pasta dish involving breadcrumbs and crispy fried peppers. Washed down with, of course, more wine. 
Very satiated and a little sleepy, I took one more wander through the Sassi's golden nightscape, this time to the soundtrack of a packed outdoor jazz concert in the Piazza San Giovanni. The concert was part of an annual performing arts festival put on by Italy's public radio network, the RAI, which is just one of many programs that contributes to Matera's emerging reputation as a cultural hotspot. Celebrations like this stand to multiply with the Capital of Culture designation: in order to be selected, a city must submit a detailed proposal for a yearlong event program meant to boost long-term growth and draw international attention. Matera's proposal, centered around the idea of an "open future," aims to explore how technology and public information can be used to bridge history, tradition, and the realities of an increasingly digitized and interconnected world. It's a dichotomy not lost on locals and one that, in many ways, is epitomized by the story of the Sassi—an overlooked and abandoned place given new life by those who saw beauty in its strange and ancient architecture.
This boom mentality is starting to spread beyond the city and outward into Basilicata. The most noteworthy new development in the greater province of Matera is surely the Palazzo Margherita, a 19th-century estate recently purchased and renovated by director Francis Ford Coppola. Located in the tiny hilltop town of Bernalda, where Coppola's grandfather was born, its new owner specifically wished that the hotel appeal to families. (As such, he solicited considerable input from his own in conceiving the space.) The spectacular property features extensive gardens and an interior decorated with frescoes and custom tile work by Jacques Grange, who also designed some of the furniture in the palazzo's several suites. 
Though an approximately 45-minute drive from the city, Palazzo Margherita—and the famous family that comes with it—seems to be of particular fascination for locals, who greet Matera's resurgence with deep pride and a touch of trepidation. An academic I spoke with, who has summered there for years, feared the city's impending boom would bring with it the sort of fussy, homogenized tourism that Matera's entire vibe seems designed to subvert. Indeed, the Sassi's stillness—the way its echoing stone streets seem to suspend the demands of time—is just as integral to its allure as fine restaurants and cushy cave renovations. But Matera's most forward-thinking innovators seem to know that modernization goes hand-in-hand with preservation. So, in a city that's been around since the Stone Age, the time to visit has finally arrived.