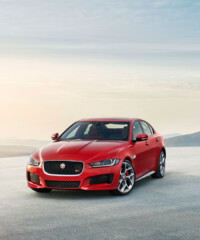 To mark the highly anticipated world premiere of its latest launch, the Jaguar XE, the British car manufacturer chose historic Earls Court in London for a star-studded event. 
The venue was a fitting choice considering 14 Jaguar launches have been unveiled here over the past nine decades. On display throughout the arena were classic models, including its Le Mans-winning Jaguar D-Type, which guests eagerly posed for photographs with as they snacked on fish and chips and Eaton mess.
The presentation included performances from singer-songwriter Emeli Sande and music by the Kaiser Chiefs, who riled the crowd that included designer Stella McCartney, actor Damien Lewis and models David Gandy and Eva Herzigova.
But the real star of the evening was the XE. For its take on the sports sedan, Jaguar focused on lightweight construction and fuel economy. "Our mission was to create an exciting and dynamic design clearly reflecting the XE's positioning as a serious driver's car," said Ian Callum, who has been director of design since 1999. Hailed as the most aerodynamic Jaguar ever made, the aluminum body structure and highly efficient 2.0-liter, four-cylinder engine also makes it the most environmentally sustainable model for the brand. 
The XE will be available in the US in 2016, but more details on the entire XE range will be revealed next month at the Paris Motor Show.
Click through the gallery to see pictures from the event.