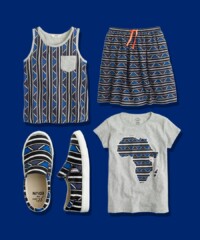 The best part about the EDUN children's collection for J.Crew's Crew Cuts (besides the adorable design) is that these brands are using fashion for the greater good.
Manufactured in Kenya, the collection includes two shirts created to support J. Crew's Garments for Good, a philanthropic initiative that will directly benefit the "With My Own Two Hands Foundation." And 50 percent of the proceeds from the shirts' sales will be used to benefit St. Ann's Orphanage in Kenya.
The line was inspired by African prints. EDUN creative director Danielle Sherman said her team "looked to the Ndebele people of South Africa, and the beautiful geometric patterns that decorate the outsides of their homes" for creative motivation. 
In addition to the two shirts, the five other items in the line include an African print dress, tank top, skirt, pants and sneakers. Shop them on jcrew.com now.