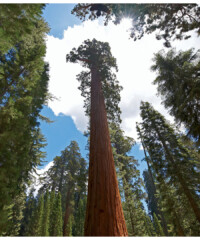 Naturalist John Muir once described California's High Sierras as the most beautiful landscape he had ever seen. On a recent driving tour of Sequoia, Kings Canyon and Yosemite National Parks, I had the chance to explore this area during the off-season, when most of the parks' combined six million annual visitors were nowhere to be found.
Following a delicious breakfast of bialys and lox at Venice's Gjusta Bakery, a friend and I set off for Sequoia, the southern entrance of which is an easy three-and-a-half-hour drive from Los Angeles. From the moment you enter the park and begin your ascent—Sequoia's elevation ranges from 1,370 to 14,944 feet—you are met with stunning scenery: rolling hills, meandering rivers, pine-covered slopes, sequoia groves and, eventually, views of the snow-covered Sierra Nevada mountain range. (Mount Whitney, the tallest summit in the contiguous U.S., also lies within the confines of the park, but visitors will only catch a glimpse of it if they are willing to undertake a strenuous, daylong hike to the top of nearby Alta Peak.)
Giant sequoias, frequently confused with giant redwoods, are the largest trees on the planet. Easily recognizable by their massive trunks' cinnamon-colored bark—a result of the tannic acid that helps protect them from forest fire—they grow only at altitudes of 5,000 to 7,500 feet and can live for up to 3,200 years. Sequoia National Park possesses thousands of these giants, as well as numerous opportunities for skiing, snowshoeing, backpacking, rock-climbing and sightseeing. Highlights of the park include a 30-minute hike to the top of Moro Rock, a granite dome formation that offers sweeping 360-degree views; a stop at the Buttress Tree, a fallen sequoia with a complex and towering root system; and a visit to the General Sherman, the largest tree by volume in the world. Our tour guide Paul Bischoff, founder of Sequoia Sightseeing Tours and a lifelong resident of the area, also showed us plenty of sights well off the beaten path. (Most memorably, we crawled into the trunk of a hollow sequoia that was still alive and looked up to see a circle of daylight several stories above!) Finally, after emptying our car of all food and toiletries—apparently, the park's myriad black bears can smell an unopened soup can from over two miles away—we settled in for the night at the rustic, comfortable Wuksachi Lodge.
The next morning we made our way to Kings Canyon National Park, which borders Sequoia to the north and contains the deepest canyon in the country. While the road down to the canyon floor is closed during winter, it's still worth a visit to Grant Grove, home of the General Grant tree, the second largest tree by volume in the world. There, we met with park ranger Dominic Papia, who—like every expert we spoke to—gave us a sobering account of California's four-year drought and its far-reaching consequences.  In contrast to previous winters, when Sequoia and Kings Canyon have typically been buried beneath a thick layer of snow, the forests we visited in March were warm and dry, a condition that severely threatens plant growth, agricultural irrigation and wildlife food sources. 
Visitors who enjoy waking up to nature might consider a stay at John Muir Lodge, a stone-and-timber property minutes from Grant Grove that features a surprisingly good restaurant—a well-cooked rib eye and caprese breakfast scramble were among the standouts. But if four-star hotels are more your speed, try Tenaya Lodge at Yosemite, an upscale, family-friendly resort set at the southern gate of Yosemite National Park that is currently undergoing a $5 million renovation. At Tenaya, guests can take advantage of dozens of amenities, including three swimming pools, five seasonal dining venues, an archery range, a climbing wall, numerous hiking and biking trails, several outdoor fire pits, a sledding track and a private ice-skating rink. For our part, we headed straight to Ascent Spa for full-body massages and some down time in the sauna and steam room. A 10,000-square-foot space decorated with soothing, Zen-inspired furnishings, Ascent was named by USA Today as one of the finest spas in the world.
After a full day of pampering, as well as an outstanding six-course meal at Embers, Tenaya's romantic fine-dining restaurant, we were ready to head on to Yosemite, arguably the crown jewel of America's national parks. Roughly the size of Rhode Island, Yosemite is home to 1,497 flowering species, 250 bird species, 90 mammal species, 35 tree species, 11 waterfalls, two glaciers and countless extraordinary landmarks. Anyone who has ever stumbled upon the scenic outlook known as Tunnel View and confronted its expansive vista of El Capitan, Bridalveil Falls and Half Dome will never forget the awe and grandeur of the experience. Although there are innumerable ways to immerse oneself in the park—in the past, I have particularly enjoyed the Mist Trail, a magical seven-mile hike that leads you up alongside Vernal and Nevada Falls—on this trip we rented bikes at Yosemite Lodge and spent a glorious afternoon cycling through Yosemite Valley, enjoying the warmth of the sun and making brief stops at Sentinel Rock, Yosemite Falls, Cook's Meadow and Valley View.
No journey to Yosemite would be complete without a visit to the historic Ahwahnee Hotel, situated almost directly beneath the granite cliff known as the Royal Arches. Designed by Gilbert Stanley Underwood in 1925, this masterpiece of rustic "parkitecture" has hosted such notable guests as John F. Kennedy, Walt Disney and Queen Elizabeth II, who stayed in the sixth-floor Mary Curry Tresidder Suite during her visit in 1983. Although the Ahwahnee's rooms are relatively basic—the hotel will be undergoing a renovation of its rooms and cottages this coming year—I recommend high tea in the Great Lounge, a Native American-inspired public space flanked by two massive stone fireplaces, as well as meals in the Grand Dining Room, a vast, cathedral-like chamber with a vaulted log ceiling and eleven 24-foot-high picture windows that perfectly frame Upper Yosemite Falls. 
On our last morning, I went for a short walk along the Merced River, the pellucid, rushing waterway that winds its way across the valley floor. The pine forest was still shrouded in shadow, but Half Dome in the distance was ablaze with early sunlight and a silvery crescent moon hovered just above the cliffs. I would soon be leaving for the airport in Fresno, a two-and-a-half-hour drive from the valley center, but at that moment, alone in the wilderness, I could easily imagine the park as John Muir had experienced it over a century before. "After ten years of wandering and wondering in the heart of [the Sierra]," Muir wrote in 1912, "rejoicing in its glorious floods of light, the white beams of the morning streaming through the passes… and the irised spray of countless waterfalls, it still seems above all others the Range of Light." Muir was largely responsible for the creation of all three national parks in the High Sierra; for that accomplishment, we owe him a great debt.