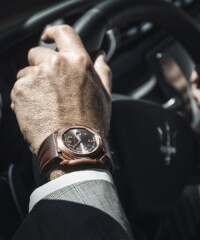 Exotic, fast-paced and sometimes even furious, the world of automobile racing and luxury cars captures global attention. The love affair with cars, racing and rallies has existed ever since Louis Chevrolet and Henry Ford invented the first motor coaches back in the early 1900s.  Around the same time, wristwatches began their debut on the scene—what were once pocket watches evolving into mechanical masterpieces for the wrist.
Since that first quarter of the 20th century, these two mechanical worlds have grown enormously. In each realm, mechanics continually strive to put hundreds of perfectly placed components together under the hood for the maximum performance. In one case, it's a car engine and in the other it's a watch engine, sometimes no larger than an inch in diameter and packing hundreds of tiny parts.  This may well be why the two industries have partnered together for decades, recognizing the synergies of their shared quests for innovation and mechanical perfection.
At the turn of the last century, brands such as Minerva, TAG Heuer, Omega, Rolex and Breitling consistently pushed the envelope of invention, creating watches that could time races with ever-increasing accuracy. Watch brands soon recognized that in order to keep pace, they had to perfect their mechanisms so that finishes could be timed to hundredths of a second without flaw. In accomplishing this endeavor, they swiftly drew the attention of the automotive world.
Rolex was already deeply entrenched in auto sports back in the 1930s when the brand formed close ties to Sir Malcolm Campbell, who set the world land-speed record by being the first driver to break the 300-mile-per-hour barrier. In 1955, Rolex launched its Chronograph Reference 6234, which began appearing on wrists of drivers—including Campbell—giving Rolex a strong presence in endurance motor racing at Daytona. It wasn't until 1962 that Rolex served as the official timekeeper of Daytona, and shortly thereafter unveiled the new Cosmograph Chronograph Reference 6239, nicknamed "The Daytona" to celebrate its relationship with the races.
Actor and racecar driver Paul Newman was an avid fan of the Daytona, and his watch became known to collectors as the "Paul Newman" Rolex. Suddenly, every Daytona with similar dial colors and seconds scale became hot commodities in the watch collection arena—and remain so today. In fact, Paul Newman's own Rolex Daytona just sold at auction last year for an incredible $17 million, attesting to the iconic status of both the watch and the legendary actor.
Today Rolex is firmly entrenched in the auto sports world, sponsoring the Rolex 24 at Daytona, the famed Pebble Beach Classic Car Week, among others. The brand supports the worlds of Formula 1 and LeMans racing as easily as it slides into vintage rallies like Goodwood and Concours d' Elegance in Pebble Beach. Rolex even has a host of automobile drivers onboard as brand ambassadors—Sir Jackie Stewart, Tom Kristensen and Mark Webber, to name a few—and it, naturally, continues to build its highly esteemed Oyster Perpetual Cosmograph Daytona watches.
Similarly, TAG Heuer has deep roots in auto racing, timing events in the 1950s such as the Twelve Hours of Sebring, and producing iconic, racing-themed watches such as the Autavia, Carrera and the Monaco (the first-ever,  square water-resistant watch). In fact, the Monaco garnered international fame in 1970 when actor and racer Steve McQueen wore it on the movie Le Mans—making it forever an icon.
Today, TAG Heuer remains highly visible in the auto-racing world. The brand is the official timekeeper and watch of the Red Bull Racing team; sponsors a host of other events; and employs numerous drivers as brand ambassadors. It also continues to create all three of its coveted auto-inspired lines, including the Formula 1 watch.
The list of top watch brands that have joined forces with the automotive world goes on and on—and takes on many different forms. Some watch brands are official timers of races, others choose to sponsor races, drivers or teams, and others have actually partnered with automobile brands to create watches inspired by their cars.
Breitling, for instance, has teamed with Bentley Motors since 2003, creating exclusive Bentley by Breitling watches, as well as in-car dashboard clocks. Similarly, Parmigiani Fleurier joined forces with Bugatti back in 2001 and, as a result, created one of the most complex watches on the market at the time. Today, the newest Bugatti watches continue to be mechanical marvels that rival the brand's automobiles. Even luxury jewelry and watch brand Bulgari has teamed with Maserati for a collaboration that recently produced a Bulgari Octo jump-hour timepiece reflective of the automobile brand. Bremont works with Jaguar in a similar vein; while IWC partnered with Mercedes-AMG and unveiled a tribute watch earlier this year. Chopard has a long and storied relationship with the Mille Miglia vintage races, as well as being the official Timer of the Porsche Motorsport LMP1 team.
Swiss watch brand Zenith—known for its innovative watches and interesting alliances—teamed with luxury sport-utility vehicle company Range Rover a couple of years ago. Their newest watch, the Chronomaster El Primero Range Rover Velar Special Edition, was unveiled this year to celebrate the release of the new Velar SUV. In fact, rather than launch this watch at the large international watch fairs, Zenith opted for the Geneva International Motor Show—underscoring its commitment to the automotive world. The watch features an all-new brushed gray dial with copper-colored details—color concepts inspired by both brands' design and engineering departments.