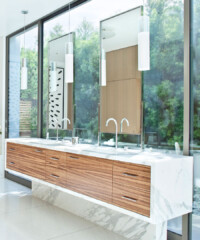 The real reason why William Hefner and his wife Kazuko Hoshino weren't spending much time at home wasn't a hectic schedule or travel—it was a giant tree.
Planted in the front yard, the tree was blocking a good amount of sunlight from spilling into their house. "We built a sunroom which had some light for the first three hours of the day," says the Los Angeles architect, "and after that it didn't. We said, 'wow, this is why we're not here on the weekends.'
That was 15 years ago, but the husband-and-wife team that helms Studio William Hefner—the architecture and interior design firm behind some of Southern California's finest private residences, including a 60,000-square-foot mansion in the same neighborhood Jennifer Aniston has a home—remembers this when working with clients. They're Hollywood insiders, bankers, doctors, aerospace engineers, people in tech—a cross section of homeowners on both coasts and internationally from Turkey to Tel Aviv.
"I feel like every house we do starts looking like the owners on some level or starts reflecting their personality," says Hefner, but the duo (Hoshina heads interior design) has seen a common denominator in the style they're requesting when they remodel their homes.
"It's been so in and out in the past, but modern, contemporary living is really here to stay this time," Hefner says. By seamlessly blending the interior, exterior and landscape with a clean aesthetic and natural materials, Hefner's on to something. Below, he shares how he's seen the perennial style evolve and why it could possibly be the new normal in custom homes.
Rethinking Open Space
"People are liking a more open, relaxed feel to their homes." Hefner says. Interestingly, more and more of his clients are forgoing formal spaces like the living room and dining room. "I think contemporary architecture with its openness enables that to work wonderfully."
A Traditional Exterior, a Contemporary Interior
"We're seeing projects where people want the outside to be traditional, because that's what's appropriate for the neighborhood," says Hefner, "but the inside to be very contemporary," like a kitchen with European design and furnishing.
A Strong Emphasis on the Outdoors
"Especially in California—but I think really anywhere—people want to get outside easily and get outside in a graceful way. You see it in older houses where that wasn't really important to people before, but it definitely is now." No matter what the style, Hefner sees the landscape and exterior living areas as part of the house; "they're outgrowths of the house," he says, and being able to extend his vision across the furnishing and interiors into the landscaping "makes the whole thing flow better."
Unexpected Historic Details
Say so long to the usual all-painted-white, shaker-style New England kitchen. When designing custom furniture and interior finishes for projects, Hefner, who has a degree in art history, draws inspiration from historic architecture and different periods, "like the '40s in France, they would mix brass with unusually finished wood and fabrics and leather," he says. "There's a wonderful richness in that."
Getting Light Just Right
"People really gravitate to rooms that have good light," Hefner says, and since that light bulb moment from their old house, "we try not to have any dark internal hallways and have light levels that are appropriate—not too glare-y—and people respond to it. Everyone who comes to our house now loves how much light there is, and it just makes it a pleasure to be around."
Click on the gallery above to view more photos from the Trousdale project and visit williamhefner.com for more of Hefner's work.