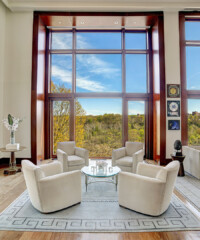 From a design perspective, this West Virginia home is unlike any others. From a geographical perspective, there's no greater point of relaxation and serenity than this location, surrounded by lush greenery. From a real estate standpoint, this property is the most expensive home to ever hit the Washington D.C. area's market. The late Jim Kimsey, a co-founder of AOL, was the owner of this North Virginia home and guest house priced at a cool $62.95 million. Mr. Kimsey built the 24,500 square-foot, six-bedroom main house after buying the property in 1999 for about $7.6 million.
While the front of the main house maintains an Italianate-style, clad in limestone, the backside follows a contrasting contemporary aesthetic. No matter which side of the house you stand, the butler statue, library bar, full gym and enormous laundry room prove the caliber of luxury found at this estate. The guest house, an original Frank Lloyd Wright design and build, boasts an opulent fireplace, a bar fit for entertaining and a vintage record player. Wright was known for his organic architecture, which is present in the style of the guest portion of the estate.
Click through the gallery to see full tour of the late Jim Kimsey's estate, front home and guest home included.