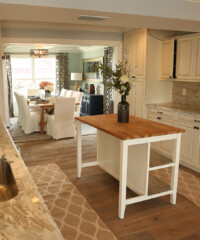 Nicole Polizzi is a lot of things to a lot of different people—partier on the Jersey Shore and Snooki and JWOWW, dance partner on Dancing With the Stars, author of A Shore Thing, mom of two, and wife. Now, the pint-sized small screen persona adds interior decorator to that list.
Tomorrow, Polizzi and her husband, Jionni LaValle, will debut an unscripted home makeover series, Nicole & Jionni's Shore Flip, on the FYI Network. "Jionni's been wanting to flip houses for the longest time. Since I dragged him into doing Jersey Shore and Snooki and JWOWW, I figured it's time for him to do a show he's invested in," says Polizzi.  Divvying up the tasks, Jionni brings the brawn and Polizzi tackles the design. "I'm a craft mom, so it's a step up with furniture," she says. "Going crazy with a hammer on the walls is probably the best thing ever."
But this isn't Polizzi's first rodeo—the couple recently built and decorated their own home. "I always pictured my house being traditional with maroons and dark berry colors. It's something really elegant that I don't think people would realize is my house." That's to say viewers won't find any leopard-print wallpaper or gaudy home accessories here. "I can't design it to what I would want because we're selling it. I try and make it neutral. It still has a pop and flavor, but I don't go too crazy," she says.
The whole experience has been a mix of business and pleasure for the husband-and-wife team. "I'm obsessed with Jionni, so it was great being able to spend literally 24 hours with him. We're a good team—we usually agree on things," she says. But it wasn't all fun and games. "The one thing that sucked was we didn't really get to see our kids a lot," Polizzi admits. "We're getting up at 6 a.m. every day, waking the kids up, bringing them to our mother-in-laws, picking them up around 8:30 or 9 p.m. and by that time, they're sleeping."
Still, Polizzi and LaValle know it's worth every minute. "We wanted to flip homes down the shore because it means a lot to us. Jionni grew up there. We wanted to help rebuild homes that we were destroyed during Sandy. Even though it has been years since it hit, it still looks like yesterday with some homes. We're not only flipping houses, but we're trying to make the community better and bring it back to what it was." It's clear the duo is going beyond the typical home transformation series.
"A lot of flipping shows are just about flipping. That's part of this show, but we also show our real life—there's a reality aspect to it," she says. For Polizzi that means, a lot of "family moments—waking up, being with the kids, and taking them to the pumpkin patch. The past shows I've done are all about partying and drinking. I'm excited to show our fans who we really are."