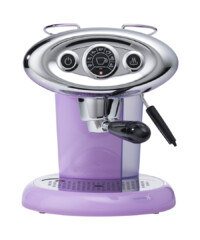 "As an architect, I'm detail-oriented and obsessed with how things are created and composed—from buildings to furniture, to food and clothing and accessories," says Julie Frank, global director of design for Le Méridien Hotels & Resorts. "It's often the smaller details—a buckle, a button, handles or a hinge—that draw my attention, rather than the larger whole."
After all, overseeing and selecting details, both minute and major, is a critical component of Frank's position at the stylish hotel brand, where she's responsible for all two- and three-dimensional design direction at more than 100 properties around the globe. Frank credits Midcentury Modernism, in particular, for influencing her aesthetic approach. "I find myself drawn to that period in all aspects of my life, be it architecture, design or fashion," she says of the era. "I'm a retro girl in a busy city." 
Among her design trademarks is the inclusion of topography lines and constellation and flight maps in various textiles, furnishings and printed materials. Frank is also prone to subtly draw one's attention to aerial views wherever possible.
With an aim to create chemistry between creative-minded travelers and distinctive destinations, Frank has most recently overhauled the look and feel of hotels in Columbus, Charlotte, New Orleans, Indianapolis and Tampa. Next up: properties slated to open in Rome, London, Paris and Shanghai.
Before joining Le Méridien, Frank, who earned her degree at the University of Witwatersrand in Johannesburg, South Africa, worked for over a decade as an architect, spearheading efforts for AvroKO, the Rockwell Group and Rafael Viñoly, among others.
"From my home to the way I dress, I gravitate to clean lines and retro silhouettes and then add minimal and changeable touches to bring interest or a quirky touch to simple forms," she explains. "It's how I express my inherent playful side."