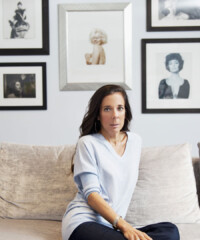 Many people have perks at their jobs, but perhaps only Faith Kates can say hers was Marilyn Monroe. Renowned photographer Bert Stern had fallen out of favor with the fashion industry when Kates, the founder and owner of top agency Next Model Management, booked him for a job. In return he presented her with one of his now-iconic portraits of Monroe. "This was before anyone wanted them," says Kates. "It inspired me to start collecting black-and-white photography."
Walk into the living room of her Upper East Side apartment, where Kates has hung another Monroe alongside Greta Garbo, Audrey Hepburn, Elizabeth Taylor and Sophia Loren, and you'll notice a minimalist style—the space is her refuge. "When I come home, because I have a 24-hour-a-day, seven-day-a-week job, this is relaxing to me," says Kates, who founded her agency 24 years ago and reps models from New York City to Milan. "I love seeing these beautiful pictures." It's a way of living she's picked up from a career in the company of legends.
"My first job," Kates says, "was working for Richard Avedon. His studio was so clean and white, and in those days nobody did that." So when she gut-renovated the apartment, bought just last year, Kates gave interior designer Michelle Gerson simple instructions: "The three things that go with me are my family, my pictures and my books. Everything else, it doesn't matter."
Touring her home now, you'll see favorite photos from over the years, many of which feature people she's worked with in the past. "There's a really cool Steven Klein picture of Justin Timberlake," says Kates. "It's a little gory—my kids are scared, but I love it." In the kitchen is an Eric Michelson photo of Brooke Shields doing the Lucille Ball "Vitameatavegamin" skit. Kates' dream get? "To own a Bruce Weber," she answers. "It's so funny because he is a good friend, but I've never bought a picture because I've never been able to afford one."
For now, there's more art to be displayed, like one print by the late British photographer Corinne Day still in an envelope. "I got a phone call from somebody who said that Corinne was dying of brain cancer and didn't have enough money to get treatment," recalls Kates. "I said I'll write a check because I just loved her work, and they sent me this incredible Kate Moss photo. I haven't been able to frame it yet." Rest assured, she'll find ­the time and space.
Click through the gallery above for a look inside Faith Kates' home and how Michelle Gerson designed the rooms.
MORE:
Celebrities Through Tyler Shields' Lens
Inside the Enviable Life of Scott Lipps
Corinne Day's Agent Shares Her Memories