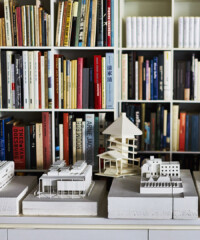 Since 2009, photographer Paul Barbera has been peeking into the workspaces of creative minds on his blog, Where They Create. After bringing the site to life in a 2011 book of the same name, Barbera decided to narrow the focus of his voyeuristic tendencies and along with writer Kanae Hasegawa, embarked on a quest to document the workspaces of Japan's notoriously private innovators.
While tokens of Japanese culture like sushi and anime have certainly made their way to the States, chatting with Barbera makes it evident that there are much deeper cultural contrasts that exist between the working lives of creatives in Japan and in other parts of the world. "People have been amazed that I've been able to get this thing together with the people that are in it because everyone is so private," says Barbera, who spent two and a half months in Japan shooting well-known architects, graphic designers, artists and other creative people in their natural habitats. "Ironically, someone like Tadao Ando—probably the most famous architect in the book and probably the most famous architect out of Japan, and maybe the world—he was just like 'whatever, go do whatever you want.'" Others were more reserved and offered only limited access to their spaces. "The hardest challenge with this book and Japan, and always has been, is to get access to people that don't necessarily want to reveal their inner workings." 
Far from turning Barbera off to Japan, this unique challenge served as an opportunity to document workspaces which have never been seen before, like the office desk of interior designer Shinichiro Ogata. In addition to the thrill of getting exclusive pictures, Barbera found inspiration in the high value placed on perfectionism in Japan. "'Kaizen', this word means the Japanese philosophy of constant improvement," he says. "You sit down in a sushi restaurant and they bring you your chopsticks and you're like 'oh my god they are the most beautiful chopsticks I've ever seen'. It can be watching the way someone sweeps the street with pride, a pride I've never seen in the United States, you know. It's difficult to really describe. But it's in everything."
Click through the gallery for a look inside the pages of Where They Create, and purchase the book at wheretheycreate.com.