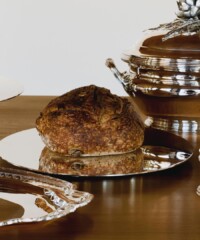 French savoir-faire meets American artist Donald Judd's designs in a new eight-piece dinner service crafted in sterling silver by the artisans of heritage brand Puiforcat. Under the direction of Flavin Judd, artistic director of the Judd Foundation, and Puiforcat artistic directors Charlotte Perelman and Alexis Fabry, silversmiths have crafted Judd's original prototype designs in a new material based on the artist's sketches, concept drawings and unrealized models, and the results are nothing short of stunning.
Founded in 1820, French silversmith Puiforcat has retained its traditional high-craft techniques while embracing modernity through collaborations with noted names in the worlds of art, architecture and design to realize classic yet contemporary—and utilitarian—works of art. A partnership with the Judd Foundation was a natural move. "This Judd project is an encapsulation of Puiforcat's genuine aspirations," say Perelman and Fabry. "The technical challenges of fabricating the pieces, the question of exactitude and the precision of Judd's designs all spoke to us. The artist originally had to abandon the idea of fabricating this service, as he was unable to find a workshop sufficiently skilled to do the job. This has been resolved by the expertise of our silversmiths, and the service is particularly striking for its balance between artistic expression and functionality, quite in keeping with Jean Puiforcat's legacy. He believed in working with the greatest creators of the time and never abandoning the goal of functionality."
For this service—comprised of dinner, bread, soup, salad and dessert plates, as well as a serving bowl and cups—silversmiths have shaped the metal into cylindrical vessels using spinning lathes and employed a brazing molten-filler technique so that no welding points are visible. Further polishing and buffing reveals the natural shine of the silver, and each unique piece is numbered and bears the artist's mark.
Every part of the service is a sculptural work of art, from the small bread plate ($6,000) to a serene serving bowl ($22,000) to the spare, multipurpose goblet ($6,200), and each is designed to stand alone or in one statement collection. A celebration of form and material—both of which were fundamental to Judd's practice—the Puiforcat dinner service is the first time his designs have been created in anything but ceramic or stainless steel.
"Solid silver emits a distinctive vibration that is particularly well-suited to the stripped-down character of Judd's forms. This minimalist quality demands precision, exactitude and an unfailingly sure hand," explain Perelman and Fabry. With the help of Puiforcat, the Judd Foundation has seen the artist's exquisitely simple designs come to life.