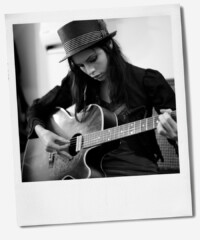 When The Ghost of a Saber Tooth Tiger, the melodic, folky rock band made up of Sean Lennon and Charlotte Kemp Muhl, decides it's time to record a new album, the first order of business is leaving New York City behind for a cabin upstate with decidedly fewer disturbances.
"There are no distractions, and it's kind of mystical because you're out in the middle of the woods near a lake where it's really quiet and you're forced to focus," Kemp Muhl, who's a model as well as a musician, says. "You just live, eat and breathe the music while you're there; you're not taking calls from friends or going out to dinner."
It's a setting that allows the band to work on without worry about distractions or even the time of day.
"Our poor engineers—we drag them through the mud, we stay up we won't finish working until nine in the morning," Kemp Muhl says with a laugh. "I'll go days without sleeping, and I'll take what I call micro naps, which are these short little naps throughout the day, but I never really sleep."
Despite the odd hours, working upstate—where the duo holed up for a month to record Midnight Sun—gives both Lennon and Kemp Muhl the opportunity to find inspiration. "He's hyper sensitive—if the light isn't right, he'll get spooked and won't be able to work," she says of her band mate and beau. "I'm kind of like a bull in a china shop. I can write a song while the radio is on, so we have to find a shared time when we're both inspired, which is hard because people don't always get inspired at the same moments."
Luckily, the pair was able to do just that in order to write and record Midnight Sun, a collection of 12 songs psychedelic songs—played electrically, not acoustically; a change for the band—that they'll be touring in support of all summer long. Although a return trip to the studio upstate, where the band keeps offbeat instruments including a glass harmonica, a calliope and a collection of xylophones, might not be too far off.
"We have a lot of material left over and more in the works," Kemp Muhl says. "Right now we are going to tour this one and see what happens, but if we have time to take a break make another record, we will."
Midnight Sun released on April 29. Click through the gallery above to see photographs Sean Lennon took of Charlotte Kemp Muhl while recording the album.
MORE:
Inside the Enviable Life of Scott Lipps
Looking Through Corinne Day's Lens
Catching Up with Private Shutterbug Peter Arnell