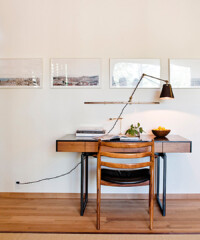 With buyers looking for full-time residences or a second home near New York City, the 26 glass and timber homes of the Hudson Woods development are attracting plenty of interested parties. Located 100 miles north of the city, it's close enough for a weekend trip but far enough away to feel like an escape. The homes, which feature sustainable and locally sourced materials, sit on 3 to 12 acre lots and will be completed by the spring.
Architect and developer Drew Lang explains that "Hudson Woods appeals because the area is much more laid back than other second-home markets and the price point is more attainable."
Click through the gallery above to see a selection of the homes, priced from $665,000.