Iconic chocolate brand Compartes has been in business for 70 years and counts legends like Frank Sinatra, Marilyn Monroe, and Winston Churchill as customers. Owner and creative director Johnathan Grahm took the reigns in his early 20s and the Los Angeles native put his stamp on the brand by transforming chocolate bars into veritable pieces of art with inventive flavors and beautiful packaging inspired by fashion, design, and pop culture. Most recently, he's taken the company to another level with a newly opened 6,000-square-foot chocolate factory on La Brea Boulevard in LA.
"It is like a modern day Willy Wonka world for 2020," Grahm says. "It's futuristic and traditional at the same time." The factory, which is more than five times the size of its original Brentwood location, is a feast for both the eyes and taste buds. Floor-to-ceiling glass walls give visitors a peek at how the chocolate is made from scratch. On any given day, you might see chocolatiers drying fresh strawberries or preparing donuts to put in the chocolate bars. "It's mesmerizing," Grahm says.
The factory's Parisian-inspired design is just as tantalizing as the chocolate. From the imported Italian marble and 14-foot brass door to the Venetian plaster walls and custom black cabinetry, every inch is luxe yet playful. Grahm, who considers himself an aficionado of all things beautiful, designed every element of the space himself. "I love interior design so much," he says. "It's my second favorite passion besides chocolate."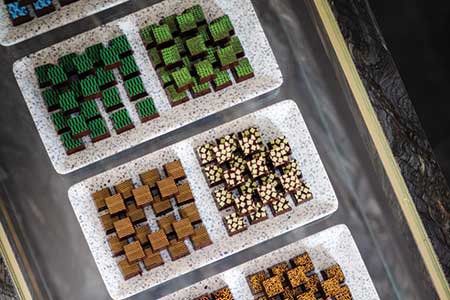 As if undertaking the chocolate factory wasn't enough, Grahm also spent the last two years dreaming up Compartes's new line of vegan organic chocolate bars made with superfoods. "The vegan line is some of our best work ever," he says. "The flavor profiles are incredible."
His all-time favorite flavors include the best-selling California Love made with dark chocolate and crunchy, salted pretzels as well as the Campfire S'mores bar which features photos from his most treasured camping trips on the packaging.
So, what's next for Compartes? Grahm is taking a deep breath and savoring all of his tasty successes for now. He's been making chocolate since he was 15. "Compartes is really a reflection of me. The company has grown as I've grown as a person," he says. The chocolate factory was his way of bringing the Compartes world to life in a way that people could not only taste, but truly experience the brand. It's safe to say his mission is accomplished.
For more on Los Angeles, click here.