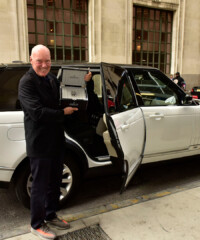 1969 was a pivotal year for two iconic luxury brands—it was the year Land Rover created the Range Rover and Zenith released the El Primero chronograph. Nearly half a century later, these innovators have teamed up to create the El Primero Range Rover edition, a timepiece inspired by the illustrious luxury SUV. The watch was unveiled to the public at an NYC cocktail party on Monday night, where artist Carlito Dalceggio created a work of art in real time and President of LVMH Watch Division Jean-Claude Biver and Chief Design Officer at Land Rover Gerry McGovern spoke about working together both on this timepiece and more to come.
The watch is available with an ivory or blue calfskin band made of the same leather found on the seat of a Range Rover, and is unbelievably light. "The weight is the enemy in the car—and in the boat and in the plane. So how could we get a super-light watch when we've never made it before? Of course we made titanium watches, but I tell you what, they're still quite heavy compared to aluminum or compared to carbon, and that brought us to a new alloy," explained Biver. "It's an aluminum ceramic, it's a very, very hard aluminum. It's scratch-proof, you can never scratch it."
"It's a very sophisticated looking watch. That combination of the sort of satin, which is sort of stealth-like, but then you've got right buttons and the actual bezel, the cover, the sapphire glass. It's got that juxtaposition of 'stealthness' but there's a bit of glamour in it," says McGovern. It's clear that this El Primero reflects the aesthetic of Range Rover, but it's only the first creation to come out of this partnership."This is really just the beginning, in my view, because I think there are lots of opportunities," said McGovern.