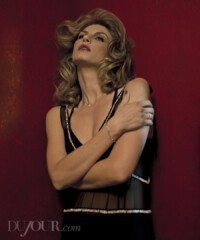 Angela Lindvall got her break at age 14 when a talent scout plucked her from a Kansas City fashion show, and she's been working in the spotlight ever since. The 36-year-old model has been shot by the world's most prominent lensmen and has lent her face to campaigns for brands including Louis Vuitton, Chanel and Christian Dior. So it's more than a little surprising when she's asked how she first knew she had made it and she fires back, "I feel like I'm not quite there yet."
It's not some out-of-reach modeling gig that will give this mother of two validation, however. It's something more down to earth. Literally. 
"I've always been someone who lives in nature, but I was pretty naive until I started to question what's in our food, and what's in our water and our air," says Lindvall. "I was bombarded by the state of the planet, and overwhelmed by it."
Environmentalism is what Lindvall considers to be her true calling, and she's not just lending her name to the cause: She has designed a collection of recycled-silver baubles with luxury jeweler John Hardy, has pioneered the environmental nonprofit initiative The Collage Foundation and is a founding board member of the Natural Resources Defense Council's Clean by Design initiative, which aims to change the textile industry in China. 
Her hands-on approach to sustainability is most apparent at home. Lindvall lives on a nine-acre, eco-friendly compound in L.A.'s Topanga Canyon with her two young sons, Dakota and Sebastian, alongside a greenhouse, an orchard, a yoga studio and some chickens Lindvall refers to as "the ladies."
It's an unusual menagerie, but Lindvall says it ensures her brood grows up with a personal connection to the nature around them. "My sons were both in charge of painting the chicken coop, and I think they loved that," she says. "They had to work together and got paint all over themselves. Dakota looked like an old man for days because his hair was stained white from the paint."
Idyllic as Lindvall's agrarian life sounds, it hasn't been without its struggles. During the early days of her sustainability crusade, which began around the time she turned 18, she felt a great sense of duty—for better or for worse.
"I had what I call environmental anxiety, but I feel like that's counterintuitive to living a balanced life," Lindvall says, "because we have to still enjoy life and we have to celebrate the beauty."
The anxiety stemmed from the seemingly conflicting nature of her careers. Lindvall worried that the industry that made her famous sometimes went against her beliefs. "I've always felt this contradiction between who I am as a person—what inspires me—and who I am in my career," she says. "They don't always go hand in hand."
Still, she has done her best to reconcile the situation. Relying on her fashion-industry connections and impressive visibility, Lindvall has created initiatives meant to incite global change, but she's also focused on an audience closer to home. 
"I like to engage my kids in the act of service, coming from a place of gratitude and being thankful for everything that we have," she says. 
How exactly does that work?
"We write down the things that need to be done and take turns picking what we want to do to contribute," she explains. "It's really about what we have to do to help out, to make our lives harmonious."
Lindvall's quick to stress that one needn't be a supermodel in order to make a difference. She encourages anyone struggling to find a footing in the movement to start small, by composting, vintage shopping and, most importantly, teaching the next generation about doing their part.
She describes the actions she's taken, both big and small, as "stepping off the edge, and doing something totally different than a mainstream modeling career." It's true that this level of commitment is in no way mainstream, but with people like Lindvall devoted to the cause, it may just get there yet.