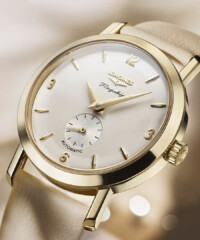 On Friday, Longines kicked off a weekend of equestrian sport and humanitarian causes with an event hosted by Kate Winslet at the Swiss watchmakers's downtown Manhattan boutique. The event followed an online auction of three gold watches that Winslet herself designed last year to benefit the Golden Hat Foundation, a charity cofounded by Winslet that is dedicated to improving the lives of those with autism. As the face of Longines and the company's official Ambassador of Elegance, Winslet presented the winning bidders with the watches on Friday evening, raising $250,000 for the charity's cause.
It wasn't the only gold given that weekend; on Sunday, Longines hosted the Longines Masters of New York at the newly renovated NYCB Live, an international equestrian event that attracted A-list riders like Jessica Springsteen, Ariana Rockefeller and Georgina Bloomberg. Competing against European masters like Peder Fredricson, American McLain Ward took the event's top prize in a stunning showing.
The event also marked a recent victory by the timekeepers themselves; recently, Longines debuted a new model, its Conquest V.H.P., or "very high precision," which features new breakthroughs in quartz watch construction. Besides its precise timekeeping and elegant looks, the brand has long fit in among the rarified equestrian world; in 1878, Longines debuted a timepiece engraved with a horse and jockey.
Click through the gallery for a look back at this highly decorated weekend.