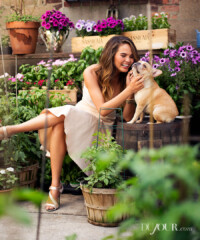 It goes without saying that Teigen and Legend are extraordinarily attractive individuals, but they are somehow more beautiful together than they are apart. When we meet, Teigen is wearing a sleeveless white T-shirt sans bra, like only a 29-year-old supermodel can, her sculpted, candy-apple cheeks peeking out from beneath the brim of a floppy beige hat. Legend, in a black beanie and black peacoat, could easily be mistaken for any dapper downtown hipster. We're seated at a table at the front of the restaurant, exposed to New York's cobblestoned Bond Street, when a photographer appears on the other side of the window. I become overwhelmed with second-hand paranoia: How did he find them? Did a waiter tip him off? But before I can bring it to their attention, the door swings open and in walks a young woman, her face partially concealed by a birdcage-style wedding veil. Her father, the "paparazzi" and her new husband trail behind. They've just tied the knot at City Hall.
Teigen and Legend, who say they still feel—and definitely still act—very much like newlyweds, grow nostalgic about their own City Hall nuptials, a last-minute affair that cracks them up two years later. They didn't realize they would need to bring a marriage license to their wedding in Lake Como, so they squeezed in a quick ceremony four days before walking down the "official" aisle. "I didn't know that we would have to do the traditional vows. I was ready to just sign a piece of paper," says Teigen, who wore black leather pants and a black Victoria Beckham cape for the occasion. "But when it actually happened and I was up there, I started crying, of course."
Click to watch Bruce Weber's video of Chrissy and John on set in Miami
Not long after the couple met in 2006 on the set of the music video for Legend's single "Stereo"—seven years and one day before their wedding—Legend knew there was something different about Teigen. She was stunning, sure. But that was only part of her appeal. "The more I got to know her, I started to realize how funny and cool she was," he says. "You meet all kinds of good-looking people, but she was so vibrant and engaging. Even when we'd text, she was always saying something clever." His eyes literally twinkle when he talks about his wife.
"They're an intriguing couple," says Sybil Dessau, a TV producer and one of Teigen and Legend's closest friends. Legend, who at 36 still describes himself as shy, started college at the University of Pennsylvania at 16. As a 4'11", 12-year-old high school freshman, he had been nicknamed Doogie Howser. Teigen has lovingly morphed the moniker into "Googie Browser," a reference to her husband's fondness for Google. His dream is to one day be a contestant on Jeopardy! "John's the guy who is always reading The Economist backstage. He's an intellectual—he's not funny, outgoing or crazy," says Seth Friedman, Legend's friend and former manager. "Chrissy laughs at him because he's so square, and he laughs at her because she's so irreverent."
Teigen, meanwhile, has the sharp tongue of a comedian and an obsession with Taco Bell. She loves Nintendo and performing magic tricks. "Chrissy contradicts what you'd expect a model to be. She likes to eat, she likes to speak and she likes to be controversial," says Dessau. "She's not a wallflower, and she's unapologetic about it." Her no-bullshit attitude toward fame has also struck a chord with women. In the spring, she Instagrammed an intimate photo of her inner thighs, and visible stretch marks, with the caption "Bruises from bumping kitchen drawer handles for a week. Stretchies say hi!" The post drew an onslaught of media coverage, including an article on Time's website that hailed her as a bastion of body positivity. If that sounds like an overstatement—the idea that a swimsuit model might inspire self-acceptance among young women—just take a look at the comments. "Thank you for showing it's OK to not be perfect . . . " wrote one. "That a good personality and a sense of humor will take you a long way. We need more role models like you in the world." And another: "Wow, I've always made an effort to keep mine hidden. So many women can relate to this. Thanks to you, I don't have to feel ashamed anymore."
Legend is a needle-mover in his own right, using his fame as a platform to create awareness for social change, occasionally with a sense of humor likely influenced by his wife. In his "All of Me" video spoof that recently went viral, Legend hosted a wedding for his two bulldogs, Puddy and Pippa, serenading the animals as they walked down the aisle. The video concluded with a tout from Legend promoting a fundraiser for his Show Me Campaign, a nonprofit that focuses on ending poverty through education. The following week, he launched a multi-year initiative to end mass incarceration.
Later this summer, Teigen will begin cohosting The FAB Life, a roundtable-style daytime talk show on ABC. "It's going to be very weird for me to go to work at the same time every day five days a week," she says, sipping a glass of rosé. "How does this work? Can you call in sick? I've never had a job where it mattered if you were sick. With modeling, as long as you're not barfing in the photo, no one cares if you're sick." Although they've long called New York home, Teigen will soon spend most of her time in Los Angeles, filming the show. When I ask Legend if he, too, plans on living in L.A. full-time, he looks confused, as if the thought of being apart had never even crossed his mind. "I'll just be wherever she is," he says.
While Teigen is on set, Legend will head to the studio to work on his next album, which he's hoping to release in mid-2016. And then? "Have some babies," he says with a boyish grin. Teigen chimes in, "We want a lot of kids. I would love to have three or four of my own, and then adopt a few. So basically I'll be pregnant the rest of my life." Imagining pregnancy is, to some extent, what inspired her to go nude for the DuJour photo shoot. "You look at Kim [Kardashian] and see how women's bodies just become so beautiful," she says. "[The thought] of getting boobs thrills me. And John looooves pregnant women, so— "
He doesn't argue. "I'm attracted to the heightened femininity," he admits. Teigen confesses that she's partial to having girls. "She thinks I'm not athletic enough to have a boy," he says. "I'm a musician, I'm good with women and I'm a feminist, so I think I'll be a good 'girl daddy.' " Already he's planning for the financial strain of parenthood. "Part of my goal in making money is so that our kids won't have to fly on regular planes and embarrass us," he says. "I'm saving up so they can fly private."
Private air travel notwithstanding, Teigen insists the couple won't let parenthood change who they are. "I feel like sometimes when people give birth, they give birth to a tiny part of their brain. Whatever they thought they would be goes out the window and they kind of lose their minds," she says. She doesn't think she's going to be that person. Still, while she's at it, she'd like to make something else clear: "I am 1,000 percent not going to have an Instagram account for my baby. It will not have a hashtag. If I have a hashtag for my baby, just kill me."