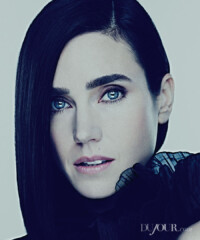 Inside the volcano Jennifer Connelly was about to learn the truth. The actress was in Iceland, taking a break from filming the biblical-disaster epic Noah, when she and her family decided to visit one of the island nation's famous lava pits. It seemed, as so many things do, like a good idea at the time.
"Looking back, it's one of the dodgiest things I've ever participated in," recalls the actress, now safely ensconced in the lounge of a Tribeca hotel. She says that she and her brood, outfitted in hard hats and issued flashlights, were lowered into the volcano on a rickety scaffold and told to roam free. But there was something slightly off about the people operating the tour, the people Connelly assumed knew something—anything—about volcanoes.
"I thought they were geologists, these people escorting us into a cavern full of holes and encouraging us to run around," she says, "but it turned out they were out-of-work actors. I was like, really?"
Jennifer Connelly isn't known for bailing on challenging situations. She's been in the public eye for most of her life, while managing to hold on to her privacy; when she left Yale, it was to attend Stanford; and she's been married to a fellow actor for 11 years, a Hollywood eternity. It should come as no surprise that the 43-year-old actress jumped into a volcano to have a bit of fun, or that a sweeping project like Noah caught her eye.
The movie, Connelly's second with her Requiem for a Dream director, Darren Aronofsky, is a big-budget retelling of the rain-soaked Bible tale in which she plays Naameh, wife of Russell Crowe's titular reluctant mariner. It's a role that took the Oscar-winning mother of three around the world and subjected her to enough simulated disaster that a trip into Vesuvius' Icelandic cousin with a troupe of thespians was definitely gratuitous.
Noah was not an easy movie to make. In the beginning, Hurricane Sandy decimated parts of the East Coast and halted Aronofsky's $100-million plus production by rendering inaccessible a three-story, 450-foot-long ark built along the Long Island Sound. "I take it that the irony of a massive storm holding up the production of Noah is not lost," Connelly's co-star Emma Watson tweeted when the storm hit. Weather wasn't the only obstacle the film faced, however.
"To be honest, Jennifer's role was a bit underwritten when she took it on," Aronofsky, a co-writer of the film, admits. Connelly's take is a bit more diplomatic. "You could see there was an interesting opportunity in the part," she says, "but the story is Noah. I don't think the focus for Darren was on developing Naameh."
So she embarked on finding depth to the character. "I didn't want to just have her be a sidekick we didn't get to learn about," says Connelly, who re-read the Book of Genesis to prepare for her role. "I wanted people to understand who she was. I thought a lot about what a woman at that time might be doing, what her contributions might have been. We built on that in the script."
That collaboration impressed Aronofsky, who welcomed her input. "I worked with Jennifer on Requiem 14 years ago," he says, "and to not work with someone for that long and see what a master she had become was a tremendous experience. This was like working with a completely different actor."
Considering Connelly first appeared on screen at 14, she's seemed in some ways like an entirely new person in each of her roles, developing from the young heroine of Labyrinth into an ingénue in The Rocketeer and a commanding force in A Beautiful Mind. And while she brushes off the notion that there's a calculated arc to her career, Connelly does admit to being choosy when it comes to projects she'll take on.
"There's a wish list of elements: a great director, a great part I can do something with and interesting people to work with," she says. "It's not a perfect world, so sometimes you get a great director but not a great part, or a great part with someone you don't know. You compromise."
She smiles slyly and adds, "Not every film I do ticks every box."
Lately, though, Connelly's been giving more projects the opportunity to do so. After an almost two-year break around the birth of her daughter Agnes, she's got a full slate of forthcoming films, including Noah, Winter's Tale (also starring Russell Crowe), director Claudia Llosa's Aloft and Shelter, the first directorial effort from one Paul Bettany, the actor who just happens to be married to—you guessed it—Jennifer Connelly.
NEXT: "I think he felt his wife was the least of his worries."