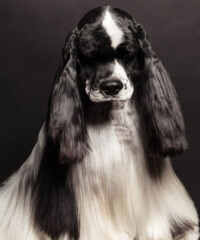 "My work is about finding identity," says Brooklyn-based artist Paul Nathan, whose photographic investigations have led him to capture everything from the heavily tattooed hipsters of Williamsburg (Generation Ink) to the finely dressed dogs of the Big Apple (Couture Dogs of New York). Through the latter, he entered a circle of top groomers who coif these power pups. "I decided to see how much of the character of the dog was present in relation to the groomer's taste."
The answer, as demonstrated by his third book Groomed—out this month—is quite a lot.
Just ask über groomer Jorge Bendersky, the Vidal Sassoon of the canine world, who wrote the foreword for Nathan's tome. "My signature is that I tailor every haircut to the specific dog," Bendersky tells DuJour. "I take into consideration the kinds of clothes they want to use, the kind of colors that they want to use, the lifestyle the owners have." In other words, glossy-coated Afghans who prefer their penthouse views of Central Park over the real thing can leave it long while Yorkies and Poodles (Bendersky's most frequent customers) might want a sportier cut. There's also booties, ear poofs and mohawks to consider.
Growing up in Argentina, Bendersky spent his childhood grooming his neighbor's Pekingese and Shih Tzus, and by the time he was 16, he was judging dog shows. After moving to New York 22 years ago, Bendersky started working at the New York Dog Hotel & Spa and quickly became the beau monde's go-to-groomer—from Gisele's Yorkie, Vida, to Diddy's Maltese pups Chacha and Sophi. Today, he looks after Ralph Lauren's Yorkie, Bikini, and many of the pooches who comfort the Victoria's Secret models. "Honestly, a lot of my clients—I don't have the time to Google them. So unless they're super famous or somebody tells me who they are, I'll probably just think, 'She's a pretty girl,''' he admits. "I'll have no idea she's a Victoria's Secret model."
Bendersky, whose rate starts at $300 per hour, will candidly tell you he doesn't charge his clients more because they're celebrities. In his words, "you charge them more because they're very complicated." Throughout his career, he's been flown to the Hamptons on a helicopter and Miami on a private jet—for grooming missions. He recalls one time being called up at midnight by a tony uptown client who couldn't fathom cleaning her dog's soiled foot.
"Her dog had stepped on a wee wee pad where she had peed. The owner freaked out and sent her driver to pick me up to wipe the dog's paw. So I went and got a baby wipe and put her paw on it," he laughs.
"There's a lot of crazies"—something Nathan soon found out for himself.
Many of the dogs in Groomed—most of which come off as a mutation of LaChapellian celebrities, Charlie White's pageant girls and Charlotte Dumas's domestic animals—were shot at Intergroom, a grooming conference run out of New Jersey each April. "There's a creative grooming section in the competition where the groomers turn their dogs into something totally undogly," says Nathan. He sets the scene: "There were dogs that had been dyed, shaved and clipped so that they resembled fish, sea horses, pirates. The groomers then set up a little backdrop that fit with the theme of their dog, and some dressed up themselves and did a little performance. This really was one of the craziest things I have ever seen."
For both the plutocrat and plebeian pet-owner, Bendersky has a case for keeping your pup groomed.
"A lot of people worry about getting their dog to sit, stay, give you a paw, but they're not aware of the importance of grooming," he says, noting it's the "best tool" for early detection of most health issues. It's not a matter of spending or saving money, says Bendersky, "it's about understanding your dog better."
That's solid advice for the owners of the Groomed pups. "Some were very supportive of the project, and others seemed very cautious of me and possibly even suspicious of my motives," Nathan says. "I frankly can't understand why, because what's the worst I could do—put the picture on the internet?"
Click through the gallery above to view a few of the manicured dogs in Groomed.
MORE:
Fashion's New Muse: The Cat
How the World's Riches Pets Spend Their Inheritance
Luxe Getaways for Animal Lovers