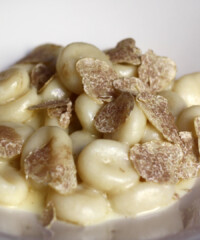 The holidays kick off in just a few weeks, but there's another delicious season worth celebrating. White truffles are here and restaurants are taking menus to the next level with hearty shavings atop their best dishes. We talked with Simone Falco, chef and owner of New York City's Rossopomodoro, about the restaurant's truffle-filled menu inspiration and the best way to pair the earthy morsels.
Why did Rossopomodoro decide to add truffles to its menu?
We wanted to showcase the truffles in an accessible, simple and delicious way.  It is great how someone can come into Rossopomodoro and either enjoy an entire truffle tasting or a single classic Spaghetto alla Chitarra with butter & white truffles.
How long is this truffle-centric menu available?
If it was up to us we would offer white truffles all year long. We will keep them as an offering on the menu for as long as possible. This depends on how long tartufo from Alba will be available. Typically white truffle season is 12 weeks, starting at the end of October. We are hoping we will have them right until after the new year.
Aside from truffles, what was the inspiration for the menu?
Our inspiration for the truffle menu was Napoli. We wanted to pair the truffles with classic dishes from Napoli. These dishes – such as the Uovo ad Occhio di Bue – are typical to what we would eat in southern Italy.  
What are the best types of flavors or foods to pair with truffles?
Definitely Eggs & butter. We showcase this on many of the truffle dishes at Rossopomodoro. One of the most unique truffle dishes we composed is the Zabaione Dolce, which is whipped egg yolk custard topped with white truffles.   
How do you select wines to pair with truffle-filled dishes?
Everyone around the world will tell you to pair Barolo with truffles, which I completely agree with. We have paired the Barolo with the primo piatto course, but with the others we have picked wines that allow the truffles to come out and shine. We spent a lot of time tasting & finding the best wine for each dish – for example the Cabernet Sauvignon with the Bistecca con Uovo and the Moscato D'asti with the Zabaione Dolce.