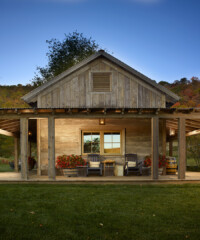 Silo Ridge, the priciest of the several country club-like communities that have recently broken ground in the upper Hudson Valley region, is nearing completion. Located 90 minutes north of Manhattan, just across the Connecticut border, the property is the latest undertaking by Discovery Land Company, the resort developers behind billionaire playgrounds like the Yellowstone Club in Montana and Chileno Bay in Cabo San Lucas, Mexico.
Silo Ridge's 800-acre gated campus, which consists of condominiums, estates, and fully customizable empty plots of land, will officially open in May. But in order to experience the development's rustic-chic lifestyle, you'll have to do more buy into one of its 300 properties; the community's exclusive, members-only model means ownership is invite-only. So far, Silo Ridge has attracted the likes of Richard Bressler, president of iHeartMedia, and Mark Teixeira, Yankees first baseman.
The idea, according to Discovery, was to engineer a self-sufficient community that brings quintessential rustic living coupled with the country club-caliber amenities and unparalleled privacy. Boasting plentiful lakes and a Tom Fazio-designed golf course, the grounds are equipped for a wide range of sporting and recreational activities. In addition to fly-fishing and bike riding, residences can partake in on-site adventurism like biking, paddle boarding and archery through the property's "Outdoor Pursuits" program led by full-time professionals on staff.
The property takes full advantage of the surrounding resources. Besides easy access to the Appalachian trail and the Hudson Valley's winding network of rivers and lakes, the development's proximity to the farming communities of upstate New York means the culinary program, helmed by Rainbow Room alum Jonathan Wright, has access to fresh cheese, chickens, vegetables and more.
Despite the development's scale, Discovery ensured that Silo Ridge—named for preexisting grain silos on the property—would be conducive to an influx of new settlers. "With each development we are careful to be respectful of the local environment and culture, so each project naturally evolves into its own unique community," says Discovery Land Company founder Mike Meldman, who most recently cut the ribbon on communities from Nashville to Barbuda.
While Silo Ridge's down-home brand of glamour may be all the rage—as demonstrated by newly constructed neighbors like Hudson Woods and Chapin Estate—land developments in the area are nothing new. In fact, for residents with a taste for the exotic, the Wethersfield Gardens—developed throughout the 20th century by banking tycoon Chauncey Devereux Stillman in a high Italianate style—is just down the road.