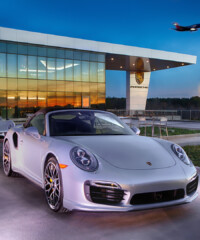 Porsche's new North American Headquarters and Experience Center, built on a 27-acre plot of land adjacent to the Hartsfield-Jackson Atlanta International Airport, signals an evolution in the relationship between manufacturers and their clientele—a significant change in the traditional dealership model. Today's car buyers are no longer beholden to a curbside sales pitch; they educate themselves online, peruse and configure models and read reviews and comparisons to their heart's content before they arrive at the dealership for a test drive. Instead of being a mere point of sale, manufacturers are keying into the fact that their brick-and-mortar presence is not only an embassy of the culture and history of the brand but a place to introduce prospective buyers to a lifestyle. 
The center, built on the former location of a Ford Motors assembly plant, is an immersive playground for all things Porsche. It features a variety of areas to test out current models and cultivate your driving skills, a custom design center to choose just the right shade of paint and, for your vintage Porsche, a full-service restoration center. Situated directly under the approach path of an endless stream of Delta flights, the $100 million complex resembles a space station—a prototype for the dealership of tomorrow. 
This level of intimacy with Porsche was once saved for the lucky few able to make the pilgrimage to Stuttgart to take European delivery. The Experience Center, and its west coast mirror-site set to open outside of Los Angeles in 2016, now offers a convenient way for buyers who are flush with cash but strapped for time to experience the brand the way it was intended (with no speed limits) on this side of the Atlantic. Minutes from baggage claim, you can be behind the wheel of the latest 911. A variety of programs for prospective and current owners can be booked through porschedriving.com. But be sure to book soon—since opening early this summer, Porsche has been getting an overwhelming wave of interest from Delta pilots.
Click through the gallery to take a photo tour through the Experience Center.