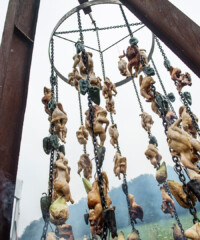 We're all familiar with the metaphor 'to play with fire,' meaning to live dangerously and most children are taught to avoid this risky lifestyle at a young age. Rest assured that all fire playing (read: cooking) at the Fish & Game Farm Play with Fire event this weekend was done safely and handled by professionals. On August 11, in collaboration with Resy and supported by Ketel One Family-Made Vodka, renowned chefs and cocktail connoisseurs joined forces for a day of fire in Hudson, New York. Guests roamed the lush land, disregarding the rain in order to indulge in the specialty open-fire cooking, perfectly paired with Ketel One cocktails.
All visiting chefs were positioned under tents adjacent to their individual grilling stations. At first glance, the grilling stations appeared to take the role of whimsical décor meant to add ambiance to the event. Upon a closer look, it was clear that each of the abstract structures were in fact various types of cooking stations, designed and crafted by Hudson Valley sculptor Kris Perry. From caldrons to fire pits, these chefs played with fire in a very Instagram-worthy way all day.
Prior to the event, the James Beard award-winner and Fish & Game chef Zak Pelaccio, who also launched the inaugural Play with Fire event in August 2014, said, "I'm super excited to spend the day cooking with this phenomenal group of chefs, working with Kris's wildly unique cook sculptures, seeing old friends, making new friends, turning folks on to what's happening in both Hudson and the greater Hudson Valley, and playing with fire!"
VIPs from the day included chefs Jess Shadbolt and Clare de Boer from King Restaurant; Nick Curtola from Four Horsemen; Ignacio Mattos from Estela, Cafe Altro Paradiso and Flora Bar; Victoria Blamey and  Seamus Mullen from Whirlybird + Greens, El Colmado; Negro Piattoni from Metta; and Sam Mason from Oddfellows. In addition, Elad Zvi and his staff from Broken Shaker and beverage director Yana Volfson of Cosme and ATLA spent their time behind the bar.
The playful finale of the night, a highlight for the pyros within us all, involved a twenty foot high bonfire coupled with spirited dancers accessorized with fire to finish off a long-winded day of indulging in food, drink and good company. Click through the gallery above for an inside look at the Fish & Game Play with Fire event.