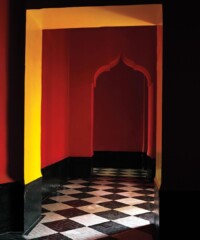 When Stephen di Renza came to Fez in 1999 to purchase a riad—a traditional Moroccan house—he was only the second foreigner ever to do so, he says. "I couldn't believe people weren't coming here and buying up these beautiful old buildings for vacation homes." In the past decade, throughout the country, from Tangier to Essaouira, foreigners have swooped in to buy many crumbling buildings, turning them into second homes and private inns. "The Moroccan king Mohammed VI centralized everything," says di Renza about the monarch who took over the throne from his father, King Hassan II, in 1999. "He built hospitals and schools and made the country accessible to tourists."
The Philadelphia-born di Renza, a fashion creative director in Paris, converted the riad into a guesthouse in 2006, calling it Riad Numéro 9. The following year, he and his French partner, Bruno Ussel, bought the adjacent building, where the recently opened Restaurant Numéro 7 now lives. They restored the structures to their former glory with the help of local craftsmen: tile workers, woodworkers, metal smiths, leathermakers. "Fez is the country's crafts capital," says di Renza, who complemented the guesthouses' traditional Moorish design with Asian, French and English antiques.
Marrakesh is the favored destination, and locals joke (and grumble) that, with so many boutique riads and luxury hotels luring tourists for warm weather getaways, the city has become the Miami for Europeans. But while the locals—expats and natives alike—may complain that Marrakesh is being overdeveloped, stroll through the city's mazelike souks and you will stumble upon some of the most exquisitely designed spaces in the world. Most foreign buyers are quite adamant about respecting the traditional design vernacular, renovating the structures in a local manner, in a kind of ethno-chic style.
Take Marrakesh's Riad El Fenn, owned by English business partners Howell James and Vanessa Branson, the sister of Sir Richard Branson, who happens to own the Kasbah Tamadot, a luxury retreat in the nearby Atlas Mountains. The 21-room riad is a lively mix of modern and traditional, the classic and the cutting edge. There are cedarwood ceilings, colorful tadelakt tiles and hand-stitched camel-leather floors throughout, but there are also plenty of contemporary touches—a red velvet-swathed bar, a screening room and a world-class contemporary art collection with works by William Kentridge, Bridget Riley and Pieter Hugo.
"People have learned how to combine things here," says New England native Maryam Montague, who owns the Peacock Pavilions guesthouse in Marrakesh with her architect husband. Last spring Montague, who has served as a design sherpa for recent visitors like Tory Burch and Martha Stewart, published a coffee-table book, Marrakesh by Design. "Spaces no longer need to look like a genie lives here. It doesn't have to be Epcot," she says, referring to a time not too long ago when expats erred on the side of theatrical—billowy curtains, excessive use of color and huge fireplaces. "We've gotten to a middle-of-the-road moment: It's more like Sweden meets Liberace."
Montague believes that Moroccan design has resonated with many foreigners because it's not only beautiful,but it has a deeper meaning attached to its different motifs and colors. "There is a lot of belief in the supernatural here, so each color has a purpose." Blue, for instance, wards off the evil eye and it also symbolizes water for the Berbers, the Moroccan desert tribes. "It's the same with patterns and symbols. You can literally read a carpet," says Montague of the Moroccan tribal rugs, which have become the take-home souvenir for fashion folks like Marc Jacobs and Joseph Altuzarra, whose fall collection was influenced by a trip to North Africa. Moroccan design has reached critical mass—West Elm now sells the Beni Ouarain tribal rug.
"There has been a creative explosion here in the last 10 years," says Montague. Of course, artists, writers and designers have always had an aesthetic love affair with the country. Novelists like William S. Burroughs and Paul Bowles produced some of their most dynamic work in Tangier in the 1950s. Soon after, Yves Saint Laurent became so enraptured with the exotic locale of Marrakesh that he bought palatial houses here with his partner Pierre Bergé. (One is now a museum and public garden.) The Moroccan culture would influence his designs for decades. The 1960s jet-set crowd—including Mick Jagger, Jimi Hendrix and Talitha Getty (whose glorious Moorish costumes would launch a thousand fashion collections)—also touched down there.
Today a new generation of creative types has discovered the country, but they experience the places with a more sophisticated lens. As Montague explains, "They've taken this old, mystical place and made it fresher, more accessible. It's a synergy of two worlds."