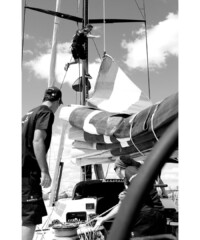 After working together on a successful run of limited edition Quattroportes, Ermenegildo Zegna and Maserati—both Italian heritage brands with a passion for luxury—have strengthened their collaboration, this time without wheels. Ladies and gentlemen, meet the VOR 70 Maserati, a 70-foot carbon fiber monohull racing boat built to face the toughest challenges of oceanic sport. The superlative ship is outfitted exclusively in technical pieces from Zegna Sport, and the Maserati team has set speed records all over the planet, including a new world record during the 3,300-mile Cape2Rio race in just over 10 days.
The crew is currently busy prepping to challenge a speed record in the North Atlantic, but world renowned Captain Giovanni Soldini and his crew recently took the time to bring us out on the water to experience one of the world's fastest boats.
A capsule collection inspired by the crews' outfits is now available on zegna.com.
Click through the gallery to see exclusive pictures of the VOR 70 Maserati.
MORE:
Luxury on the High Seas
How to Run a Business While Sailing the World
This Yacht is the Best of Both Worlds