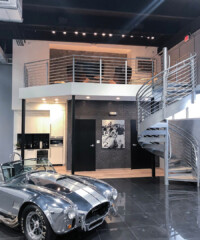 What do you do when your car collection has outgrown your home parking spaces? Father-and-son team Juan Manuel and Lino Vicente Fayen were faced with the same predicament, and in response, they developed Collection Suites, an exclusive complex opening this summer where car aficionados can create a personal retreat among their prized passions.
"It's a place where you can enjoy your collectibles while watching a football game with your friends, conducting a meeting or closing down a deal," says company COO Lino Vicente Fayen whose family's collection of 15 cars includes a 1963 Maserati Mistral 4000 GT Spyder and a 1965 Shelby Cobra. "It goes beyond storage."
While specialized garages abound in most luxury markets, Miami's Collection Suites forms a private atmosphere. Each unit—there are 38 in total, ranging from 2,200 to 2,600 square feet in size—features upscale amenities such as Italian tiles, Swiss wood floors, wet bar with wine fridge, Sonos entertainment system, bathroom with luxury finishes, integrated security system and automated LED lights. Owners can also store wine, art and other collectibles.
More importantly, Collection Suites offers complete anonymity. "We don't have a common area," Fayen says of the compound comprising of four heavily guarded buildings. "If owners want to meet their neighbors, they can. If they don't want to, nobody is going to see or know who is here."
Although the idea of luxury car condos has been a popular one in South Florida in recent years, Fayen's is the first project to be completed. "There's a niche, but we did this at first because we needed the space for ourselves," says Fayen, whose grandfather, Franco-Venezuelan racecar driver Lino Fayen, was a sixth-place finisher at the 24 Hours of Le Mans in 1959. "My family was always surrounded by cars."
Starting at around $836,000, Collection Suites aim for the top of the market. But for high-net-worth collectors, price seldom plays a main role in decision-making. "That's the beauty of collecting," Fayen says. "It's more emotional than logical."