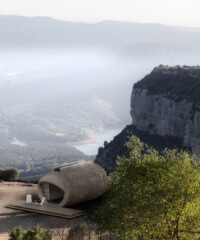 Pre-pitched canvas tents stocked with lush linens are so last year. The latest in "glamping"—a portmanteau used to describe camping in its most glamorous form—is decidedly more luxurious, thanks to the advent of prefab portable cabins. These miniature pop-up abodes are delivered directly to your own little corner of the woods and boast thoughtfully designed interiors that make even the most upscale tents seem primitive, at best.
In the case of Jackson Hole–based Wheelhaus, features include a bathroom with a glass shower, stainless-steel appliances and  rooms spacious enough for a king-size bed and a gas fireplace. The cabins typically range in dimension from 100 square feet (the Bunkie, below left) to Wheelhaus's 400-square-foot Wedge model (above), and are priced accordingly—Bunkie's units start at $21,900, while Wheelhaus' go for $89,500 and up. Most of the pods arrive pre-assembled. (The Bunkie is constructed at your chosen location in 2-3 days.) If you love the concept but camping's not your cup of tea, we suggest installing one in your (big) backyard; They make great guesthouses, and are a perfect place to park your in-laws when they come to town. 
Click through the gallery for a look inside some of these homes.