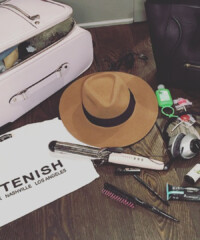 On the day of Jessie James Decker's first pop-up shop for Kittenish (the fashion line the singer/songwriter launched in 2015), Brooklyn got a little taste of country. Against a backdrop of the usual hipster-dom, vintage Ray Bans and combat boots, fans got a chance to engage with Decker's newest collection in-person, a first for what was previously only an e-commerce experience. The styles for the line's fifth season were conceived by Decker a year ago, and as the cherry on top, or the whole sundae if you ask her most avid fans, shoppers got to meet 29-year-old Decker, IRL.
Kittenish made its full transition from online shop to temporary brick-and-mortar, which marked just one of the many ways Decker's brand has evolved: the brand will now debut 15 to 20 new pieces each month going forward, including the first ever Kittenish swimwear line in April. And when evolution takes place in an artist's life, you can bet their art will show for it. Since putting out her first album in 2009, and subsequently marrying New York Jets player Eric Decker, starring on the E! hit reality TV show Eric and Jessie, and having two kids during that time, you could say that at least a couple of these things have seeped into the influences behind her latest five track EP release, "Gold."
"I've grown into a real woman now. The last time I put out a real, full-on album I was 20-years-old and now I'll be 29 this year," the singer explained. "[It's different] than the person I am now – I'm a mother of two; I'm a wife; I'm working. What I write about and what I want to sing about has changed a little bit."
Instead of singing about things like embracing single life, something she did for her 2009 hit "Wanted," her songs now take on topics like marriage and sustaining a healthy relationship. One single on the EP, "Lights Down Low," is "about not letting your marriage [or any relationship] get stale, and keeping it fresh and keeping that love alive, fiery and hot." Decker's own "fiery and hot" relationship with her husband has garnered its own fan base, both parties just as easily seen gracing a red carpet as they are lying together on their couch at home – the point being that they're together, now of course, with their one and two-year-old babies. Recent Grammy-winner Maren Morris wrote "Shoot Out the Lights," and Decker wrote "Girl on the Coast" herself, as an ode to "being a beach girl and just wanting to live [on vacation], in the ocean forever," she said.
The album itself was clearly a collaborative effort, and for that Decker thanks her musical soul mates. "You meet multiple people in your life that you connect with," she explained, "And you have your soulmate – the person you marry – but you also have many soulmates that you're meant to be with in your life." Decker profoundly recounted partnerships with people like her publisher Carla Wallace of Big Yellow Dog Music, producer Daniel Agee, and Alyssa Bonagura, who wrote the album's namesake record, among those who she's connected with musically. They're not just credited names on these songs, they're Decker's inspiration, friends, colleagues and for all intents and purposes, family.
In taking on the role of mother, wife, fashion designer, beauty blogger and since the beginning, singer, some might see a heavy load to carry. But to Decker, what makes that excitement of forging ahead to exceed limits is exactly what keeps her fans coming back for more. Really, 2017 is just the beginning.
Main Image: Harper Smith